"Not Offended By Jesus"
---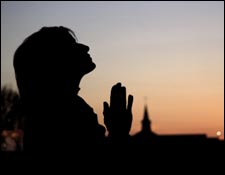 Never be lacking in zeal, but keep your spiritual fervor, serving the Lord. Be joyful in hope, patient in affliction, faithful in prayer. Share with God's people who are in need. Romans 12:11-13a
57/20

57/20 is a number worth remembering. The 57 stands for the 57 percent of Americans who believe the Lord's intervention can save someone who is deathly ill.

The 20 is the percentage of physicians who said they also believe God can do miracles in the lives of patients who, scientifically speaking, have no hope.

Those were the findings shared by a study put out in last month's Archives of Surgery.

They summed up the problem by saying there is a "faith gap" between physicians and their patients. (At the end of this devotion are five suggestions on how Christians might minimize this "faith gap.")

Now, I don't want to take physicians to task for feeling as they do.

Yes, I would prefer all medical people operate from a position of Christian faith, but that's not likely to happen.

Asking God to intervene in the sickness of someone we love is asking Him to perform a miracle; and miracles, by definition, are impossible to predict.

It is impossible for sinful humans, with our myopic prophetic abilities, to say when or how the Lord might choose to intervene and grant sight to the blind, mobility to the lame, cleansing for those who are infected, and a cure for those who are diseased.

No, we can't predict what God will do, but we do know He has the power to do as He wishes and, as His people who live in an overabundance of His benevolent love, we know that He will always do what is right for His children.

He will do what is right even when we don't understand.

Because of the Savior's life, His suffering, His death, and glorious resurrection, God's people are confident that He will graciously take care of them.

Following the Christ's example, we pray the Father's will be done on earth as it is in heaven.
We pray God's will will be done in the lives of our loved ones.

THE PRAYER: Dear Father in heaven, there are people I know who are hurting -- who are ill -- who are unsure what the future holds. Hear my prayer as I ask that You will do what is right and best for them. Listen as I ask for the faith to believe Your gracious will is always good. In Jesus' Name. Amen.

Note: Dr. Harold Koenig, co-director of Duke University's Center for Spirituality, Theology, and Health, along with two other colleagues, came up with some suggestions for people of faith when they deal with the medical profession. Amongst their suggestions were these five things to remember:

1. It's okay to ask for a doctor who also has a strong religious conviction.
2. Because religion is taboo in many medical discussions, don't be surprised if you find No. 1 difficult to do. Focus on your religious needs.
3. It's okay to ask your doctor to pray with you. Fifty-three percent of doctors said it was appropriate for them to pray with patients when asked.
4. Be specific about your religious needs.
5. If you believe in miracles, say so. Get it out in the open. Once that is done, there can be a discussion about faith.

In Christ I remain His servant and yours,

Today's Bible Readings: Isaiah 37-38 Romans 5
To Download Devotion MP3 to your computer, right click here and select "Save Link As" or "Save Target As" or "Download Linked File As"