"Priorities"
---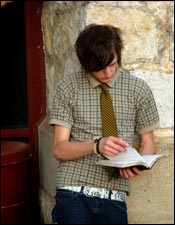 And one of them, a lawyer, asked Him a question to test Him. "Teacher, which is the great commandment in the Law?" And He said to him, "You shall love the Lord your God with all your heart and with all your soul and with all your mind. This is the great and first commandment. And a second is like it: You shall love your neighbor as yourself." Matthew 22:35-39
There are times when the Lord must look down from heaven and shake His head.

I personally think one of those times had to come if He read last week's story carried by Reuters News Service. (And, yes, I do know that the Lord knows everything and doesn't have to wait for a news service to report a story.)

Reuter's report said two-thirds of Americans would rather be stranded on a desert island with their pet, than with their partner.

That's right. According to a survey taken by Petplan®, a health insurance company for animals, most folks said they would pick their dogs and cats over their spouses. Of course, the same survey reported that one-half of those people threw parties for their pets; 70 percent shared their beds with their pets, 63 percent cooked for their pets, and 68 percent dressed their pets up.

Although the survey sample can hardly be considered representative of the general populace, I'm still shocked. Pets over people? Can we get any stranger?

Because people have perplexing priorities is probably why the Lord decided to give the commandments as He did. Speaking to a lawyer who was trying to trip Him up, the Savior said, we were to love God first and our neighbors as ourselves.

That makes sense to me.

As much as a person or pet loves us - - or is loved by us - - the Lord loves us more. So that we might be rescued from the damnation our disobedience demanded, the heavenly Father sent His Son to this earth to take our place.

As He walked among us, Jesus resisted temptation, fulfilled the commandments, carried our sins and, with His resurrection, defeated death.

In short, Jesus practiced what He preached. His entire life showed He loved His Father with all His heart, mind, and soul. His willingness to do everything necessary to save ungrateful and unappreciative humanity shows He loved not only His neighbor, but also His enemies more than He loved Himself.

Sadly, in spite of the Savior's sacrifice, I'd be willing to guess there are a lot of people who would prefer to be stranded on a desert island with their pet, than with their Redeemer.

The Lord must shake His head at His messed-up children.

THE PRAYER: Dear Lord Jesus, for doing all that needed to be done for my salvation, I am grateful. Make humanity's priorities correct so each of us may love You who first loved us. I ask this in Your Name. Amen.

In Christ I remain His servant and yours,

Today's Bible Readings: Isaiah 20-22 Ephesians 5:1-16
To Download Devotion MP3 to your computer, right click here and select "Save Link As" or "Save Target As" or "Download Linked File As"