"Not Stretchable"
---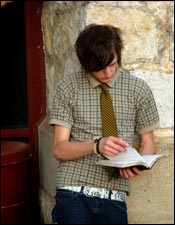 Do not lie to one another, seeing that you have put off the old self with its practices and have put on the new self, which is being renewed in knowledge after the image of its Creator. Colossians 3:9-10
Do you lie?

Probably you don't, but I've known a few folks who do.

Not so long ago I was told the story of a young sales clerk in a fabric store. Now the lad may have been young, but he knew his job.

Even so, his employer continued to show him the "tricks of the trade."

Unfortunately, some of those tricks weren't all that honest. One time, the boss gave his apprentice a demonstration on how the material should be stretched as it was being measured out. It was a subtle way of stealing "a little bit" from every customer who came in.

I'm pleased to report that the clerk, at the risk of losing his job, replied, "Sir, our fabric may stretch, but my conscience won't."

There is little doubt that each of us have been given numerous opportunities to stretch our consciences. If most of us are honest, we have to admit that sometimes we have fallen into sin.

Stretching our consciences to see how far we can go is not the way Christians are supposed to live.

Jesus, as He was about saving us, didn't see how close to a sin He could get. He stayed away from it. Period.

According to St. Paul, that's the way we are supposed to be. Forget the lying and the old ways. We have, by the power of Jesus' sacrifice and resurrection, been renewed, recreated and are recycled.

In short, we are, in Christ, new creatures who don't stretch our consciences to evil.


From a devotion originally written for "By the Way"



THE PRAYER: Dear Lord, I give glory to You! Give me the commitment and courage to be faithful without any stretching of the truth or my conscience. I ask it in Jesus' Name. Amen.

In Christ I remain His servant and yours,

Today's Bible Readings: 1 Chronicles 16 Psalms 42,44 1 Corinthians 10:1-18
To Download Devotion MP3 to your computer, right click here and select "Save Link As" or "Save Target As" or "Download Linked File As"