"No Other God"
---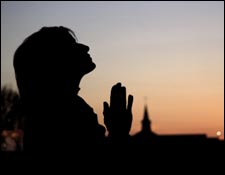 Fear not, nor be afraid; have I not told you from of old and declared it? And you are My witnesses! Is there a God besides Me? There is no Rock; I know not any. Isaiah 44:8
NOTE: THIS DEVOTION MAY NOT BE SUITABLE FOR YOUNG CHILDREN. PARENTS, TEACHERS: PLEASE READ THROUGH BEFORE SHARING.

The Freethinker magazine calls itself "the voice of Atheism since 1881."

Normally, I don't read the Freethinker, but I had to look at an article that revolved around Chaudhry Rashid, a pizza parlor owner in Jonesboro, Georgia.

Chaudhry felt it was dishonorable for his daughter to want out of a marriage he had arranged for her. He felt it was more honorable to strangle her.

He did.

Understand, there is nothing in Chaudhry's Koran that encourages such an action. On the other hand, according to one Islamic professor: "Women are considered the property of the males in their family irrespective of their class, ethnic, or religious group. The owner of the property has the right to decide its fate. The concept of ownership has turned women into a commodity which can be exchanged, bought, and sold."*

The first reason I share such a terrible story in the Daily Devotion is to encourage your prayers for women around the world who are caught not only in the slavery of sin, but are held in the bondage of their religion. Let us pray the Holy Spirit will lead them to faith in the Savior who gave His life so they might be free, the Christ who died and rose so there would be no Jew or Greek, no male or female, according to Galatians 3:28.

The second reason I bring this story to your attention is to offer this reminder: there are many people who believe all religions are the same, that everyone believes the same thing and that our prayers, somehow, some way, are all petitioned to the same god.

Such an all-inclusive approach toward God breaks down when the uniqueness of Jesus Christ, our Savior, is considered. He alone came down to earth to fulfill the laws we have broken; He alone forgives the sins we have committed; He alone died the death we deserved, and He alone rose from the grave.

Jesus is one of a kind, and we should rejoice in what He has done, even as we share the salvation He has so graciously bestowed.

We need to share the Savior, because there are people like Chaudhry Rashid who need to hear what Jesus has done for them.

THE PRAYER: Dear Lord Jesus, You promised to send Your Holy Spirit upon this world. May He bring Your Light to those who know only darkness of mind and soul. May they be freed and turned to You who alone can save. In Your Name, I ask it. Amen.

* (The quote is taken from "Chained to Custom", a review of honor killings, written in 1999 by Tahira Shahid Khan, a professor at Aga Khan University in Pakistan.)

In Christ I remain His servant and yours,

Today's Bible Readings: Psalms 104-105 1 Thessalonians 1
To Download Devotion MP3 to your computer, right click here and select "Save Link As" or "Save Target As" or "Download Linked File As"