"Too Busy"
---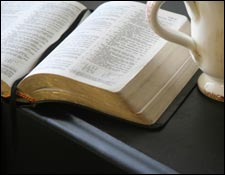 Be still, and know that I am God. I will be exalted among the nations; I will be exalted in the earth! Psalm 46:10
Every once in a while I'm convinced we've become too busy.

Indeed, most of us have a hard time finding the hours to accomplish all we wish. As a result, drive-ins have become more popular. We have drive-in banks and drive-in laundries and drive-in fast food.

You can get and do just about anything you want without ever having to get out of your car.

Knowing this, I was still surprised that our overly hasty world has now come up with drive-in mortuaries. That's right. In some communities, you can pay your respects to someone that has died by going to the funeral home, finding the right line and driving past a window where the loved one is on display.

It occurs to me that if you are too busy to take time out to spend a few minutes visiting with a family you care about, you're too busy.

To visit with a family you care about is one of the reasons we bring this devotion to you. We care about our brothers and sisters. More importantly, God cares.

Because of Christ's crucifixion and resurrection, we have been given proof God is never too busy for us. He is always ready to call us, care for us, save us, listen to us.

The question which remains is this: Are we, His people, too busy to spend a few minutes with Him? If we are, then we're too busy. We need to take time to listen to Him speak to us about how important we are and how much He loves us. We need to hear about the sacrifice He made for us. I can assure you those who regularly step out of their hectic world and listen to the Lord speak to them have found those minutes the best-spent time of their day. I do hope you join them. Slow down, and listen to the Lord.

In other words, tomorrow is Sunday. . . go to church.


From a devotion originally written for "By the Way"



THE PRAYER: Dear Savior and Friend, it is so easy to get caught up in the hurried pace of the world. With Your help, I will strive to never be too busy to slow down and listen to You. Thank You for never being too busy for me! In Your Name. Amen.

In Christ I remain His servant and yours,

Today's Bible Readings: Psalms 96-98 Acts 17:1-15
To Download Devotion MP3 to your computer, right click here and select "Save Link As" or "Save Target As" or "Download Linked File As"