"Face The Music"
---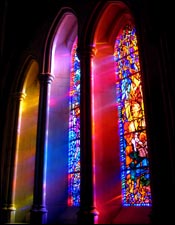 Surely He has borne our griefs and carried our sorrows; yet we esteemed Him stricken, smitten by God, and afflicted. But He was wounded for our transgressions; He was crushed for our iniquities; upon Him was the chastisement that brought us peace, and with His stripes we are healed. Isaiah 53:4-5
Have you ever wondered where the expression "He couldn't face the music" comes from?

I've been told the phrase comes from China, where, centuries ago, a man joined the emperor's orchestra. Unfortunately, the man couldn't play a note on his flute.

Whenever the group performed, he would pretend to play his instrument. For this charade, he received a salary and lived comfortably. All was well until the day came when the emperor asked each musician to play a solo. The flutist was desperate. He tried quick lessons and pretended to be sick. Even so, the day came when he had to. . .well, you know.

On the day of his solo, the fake flutist poisoned himself. He wasn't able to "face the music."

Although we may never think of following this man's escape route, there are times when we don't want to face the music either. Taking responsibility for the things we've done wrong is always a difficult pill to swallow.

Which is why we need Jesus. Those who know Jesus as Savior realize that He has taken their place. Because He has already faced the music for us, we don't ever have to face the music ourselves.

Jesus has already taken our sins and our punishment upon Himself. And even if you can't carry a tune on your own, that kind of good news can put a song in your heart, can't it?

Today we can sing a song of praise to the Savior who has borne our griefs and carried our sorrows and who was wounded, crushed and chastised for us. We give thanks that Jesus has faced the music and because He has, we are in harmony with the Lord in heaven.


From a devotion originally written for "By the Way"



THE PRAYER: Dear Jesus, thank You for facing the music for me. Because of Your gracious gift of salvation, I will never have to live in fear like the frightened flutist. Accept my praise for all You have done for me. In Your Name. Amen.

In Christ I remain His servant and yours,

Today's Bible Readings: 2 Kings 22-23 Galatians 6
To Download Devotion MP3 to your computer, right click here and select "Save Link As" or "Save Target As" or "Download Linked File As"