"Jesus' Victory"
---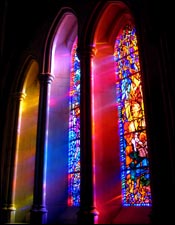 But thanks be to God, who gives us the victory through our Lord Jesus Christ. Therefore, my beloved brothers, be steadfast, immovable, always abounding in the work of the Lord, knowing that in the Lord your labor is not in vain. 1 Corinthians 15: 57-58
Years ago, Jim Croce came out with a song which listed some of the things a person shouldn't ever try. On that list were things like 'spitting into the wind, tearing the mask off the old, lone Ranger, and messing around with Jim.'

Last week, the Associated Press carried a news story about another thing a smart person should avoid. That 'thing' is breaking into the home of 5'11", 218 lb., Green Bay Packer running back, Noah Herron.

Still that's exactly what two men did.

When Herron heard the glass being shattered in the lower level of his Green Bay Home, he called the police. When one of the burglars entered his bedroom, Herron clobbered the crook with a post he had unscrewed from his bed.

That burglar was taken to the hospital, a second was taken into custody, and Herron? Well, Herron is doing just fine.

Yup, there are some things a smart crook doesn't want to do.

I think that story is a good one for God's people to remember.

You see, from the outside we pretty much look like Herron's house - easy pickin's, ripe and ready for the pluckin'.

Indeed, on our own, we ARE pushovers.

But Christians, unlike other people in this world, are not on our own. Christians have the Savior living within their hearts. To steal from us, sin, Satan, and death first have to get by our Savior. And our Savior has shown, by His life, suffering, death, and resurrection that He isn't about to let any crooks steal from Him.

Because that's so, St. Paul was able to write a message of comfort and encouragement to the Corinthian church. Those words serve as the theme for this devotion: "But thanks be to God, who gives us the victory through our Lord Jesus Christ."

Because of Jesus we have been given a victory. Because of Jesus we are safe and secure.

Because of Jesus our lives are changed. Yes, changed.

How so? Paul says, because of Jesus and the power which comes from the Holy Spirit, we are able to aspire to being steadfast, immovable, and always abounding in the work of the Lord."

THE PRAYER: Dear Lord Jesus, because of what You have done, I am safe from those who would break into my life and try to steal my soul. Confident in Your victory, may I live my days with thanksgiving and abounding in the work of the Lord. In Your Name. Amen.

In Christ I remain His servant and yours,

Today's Bible Readings: Proverbs 5-7 John 20
To Download Devotion MP3 to your computer, right click here and select "Save Link As" or "Save Target As" or "Download Linked File As"