"Failing Flesh"
---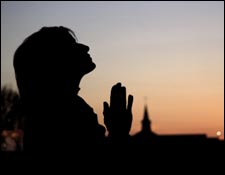 My flesh and my heart may fail, but God is the strength of my heart and my portion forever. Psalm 73: 26
A "curve wrecker."

In school, a "curve wrecker" was someone who did so good on a test nobody else came close. Usually the "curve wrecker" got an "A" and everyone else didn't.

In the world of Texas high-school sports Bonnie Richardson is a "curve wrecker."

Let me explain. Bonnie Richardson is the only athlete from Rochelle High School to qualify for the state `1A track meet. Don't feel sorry for her. Bonnie is a curve wrecker.

On a Friday, she won the high jump; then she placed second in the long jump, and finally she got third in the discus. On Saturday, she earned a first in the 200 meter and a second in the 100 meter races.

All on her own. . .all by herself. . . Bonnie Richardson earned 42 points and won the state TEAM title. Impressive.

Still, the Psalmist is right: flesh and blood will eventually fail. Curve breakers of the past, super athletes like Jim Thorpe and Babe Didrikson Zaharias are both dead now. Many of the other great athletes of yesteryear are confined to history books and the fading memories of fans.

Which is exactly why we must hear the rest of what the Psalmist wrote. "My flesh and my heart may fail, but God is the strength of my heart and my portion forever."
For every one of us, the time will come (if it isn't here already) when our bodies will refuse to follow the commands our brains send. The day will arrive when things won't work the way they used to.

Thankfully, those who know Jesus Christ as their Savior will not find that day totally bleak. Because of their dear Brother, Jesus, they know that they can rely upon the Lord. Our loving Father Who sent His Son to save us from sin and the ravages of disobedience will always be by our side. He will always watch over us and help us.

Confident of God's grace, when they are very young, we teach our children....:

Jesus loves me! This I know, For the Bible tells me so.
Little ones to Him belong; they are weak but He is strong.

But there is another verse to that song... a verse frequently forgotten, which is applicable to those who find their flesh failing. That verse reads:

Jesus loves me! Loves me still, 'tho I'm very weak and ill,
that I might from sin be free, bled and died upon the tree.

THE PRAYER: Dear Lord Jesus, for the physical strength of youth, we give thanks. But we also give thanks that no matter what pains and problems may come to our bodies, no matter how old we may be, You still love us. In Your Name. Amen.

In Christ I remain His servant and yours,

Today's Bible Readings: Proverbs 2-4 John 19:23-42
To Download Devotion MP3 to your computer, right click here and select "Save Link As" or "Save Target As" or "Download Linked File As"