"Seek Ye First"
---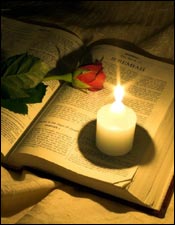 And you shall love the Lord your God with all your heart and with all your soul and with all your mind and with all your strength. Mark 12:30
My birthday is in October.

Sometime around May my children start asking me, "What do you want?" For the last few years, I haven't been able to give them a very good answer.

Somewhere along the way, I became one of those people who is difficult to buy for.

That is not the case for Bill Bramanti of South Chicago Heights, Illinois. To make a long story short, Bill loves Pabst Blue Ribbon beer. He loves the suds so much he actually had a custom-made beer-can casket made for himself.

Bill loves it so much he threw a party for himself, his friends, and family. Bill loves Pabst so much he filled the coffin with ice and, you guessed it, Blue Ribbon beer.

And how does his family feel about Bill's casket and his penchant for liquid bread?

Apparently, some of them approve. Cathy, his daughter said, "Why put such a great novelty piece on a shelf in storage when you could use it in only the way Bill Bramanti would use it?"

Now I've got nothing against beer or a beer-can casket, I only wish people would be as enthusiastic for the Lord. Jesus once said the most important commandment in life was for people to love the Lord with all of their heart, their soul, their mind, and their strength.

It's a commandment often forgotten when the things of life get in the way.

To love God with every bit of our being - - if anyone else other than Jesus asked such a thing of us, we might think they were being pushy. Not so with our Redeemer. He has the right to ask us to love God completely, because loving us completely is what He did.

Following His Father's will, fulfilling Old Testament promises and prophecies, Jesus gave Himself completely to the task of winning our salvation. So we might be saved, Jesus loved us and offered Himself up as the living ransom price for our souls.

In doing so, the Christ showed a level of commitment this world has never seen before or since. By living for us, the Savior exhibited a dedication that makes Bill Bramanti's devotion pale in comparison.

Having seen Jesus' great grace, having witnessed the lifelong perseverance of the Savior, the apostle John was able to proclaim so all might know: "We love because He first loved us" (1 John 4:19).

THE PRAYER: Dear Savior, because You loved us, we ought to love You always. Keep us loyal to You, even as You prevent us from wandering after things of little consequence. In Your Name, I ask it. Amen.

In Christ I remain His servant and yours,

Today's Bible Readings: Psalms 7-8 John 7:28-53
To Download Devotion MP3 to your computer, right click here and select "Save Link As" or "Save Target As" or "Download Linked File As"