"The Found Book"
---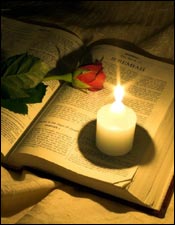 Go, inquire of the Lord for me, and for the people, and for all Judah, concerning the words of this book that has been found. For great is the wrath of the Lord that is kindled against us, because our fathers have not obeyed the words of this book, to do according to all that is written concerning us. 2 Kings 22:13
Some weeks ago in the Daily Devotions I talked about how I lost a cross that had been given to me.

No, it hasn't been found. I just wanted to let you know I'm not the only person who loses things.

According to a story carried last week by the BBC, plans for New York's Freedom Tower, the building designed to replace the World Trade Center, were recently found in one of the city's rubbish bins.

The plans were clearly labeled: "Secure Document-Confidential"; they were found by a homeless man.

Steve Yang, an architect who spoke to the New York Post, said the plans would have been helpful for a terrorist planning an attack.

No, I'm not the only person who loses things.

Centuries ago, God's people also lost some important plans. In a time of Godlessness, somehow, someway, the book of the Lord's law was misplaced. It was only when King Josiah was trying to restore and rebuild the people's relationship with God that the document was found.

When the Word of God was read, the king was both pleased and distraught. He was pleased because God's commandments and promises had come home. He was distraught because he realized how far the Lord's people had wandered.

As we look at this sinful world, most of us find ourselves concluding humanity has managed to lose a great many things. Reverence for the Lord, reliance upon His Word, respect for the Savior's sacrifice, regard for each other-have all been misplaced.

As Christians, we, like Josiah, ought to pray for a restoration of these qualities that should always be precious and dear to the Lord's people.

As Christians, it is our duty, responsibility, and opportunity to go to the Lord and ask Him to be merciful and bring us back to His pasture, His protection, and His Fatherly preservation. We need to plead with the Spirit to make sure we will never lose sight of the Savior's sacrifice, which alone can save us in this world and the next.

THE PRAYER: Dear heavenly Father, help me remember those things that are most important. Let me look to You for grace and compassion; to the Savior for redemption, and the Holy Spirit for a sanctified life. May I never lose these things, which ought always be of the highest importance. In Your Name. Amen.

In Christ I remain His servant and yours,

Today's Bible Readings: 2 Samuel 1-2 Luke 24:36-53
To Download Devotion MP3 to your computer, right click here and select "Save Link As" or "Save Target As" or "Download Linked File As"