"Here is Jesus"
---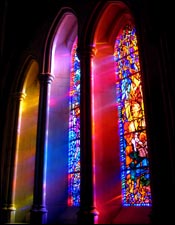 And then if anyone says to you, "Look, here is the Christ!" or "Look, there He is!" do not believe it. False christs and false prophets will arise and perform signs and wonders, to lead astray, if possible, the elect. But be on guard; I have told you all things beforehand. Mark 13:21-23
By now, almost everyone has heard about the raid on the Fundamentalist Church of Jesus Christ of Latter Day Saint's YFZ Ranch. YFZ stands for "Yearning For Zion." If you have forgotten, let me refresh your memory of what has happened there.

A few weeks ago, Texas authorities entered a compound of people who were practicing polygamy. The motivation for the raid was a phone call from a girl who said she had been beaten, choked, and forced into a marriage relationship with a 49-year-old man who had fathered a child in their "spiritual marriage."

If all is as represented, it is a tragic story. Some will say it is sad for the 416 children who were taken into custody; others will say it is degrading and sick to force young girls into an early marriage, and many others will speak with revulsion of the furnishings found in the sacred "temple."

While all of these things are heartbreaking, there is one thing I find even more appalling. In this place, Jesus' words of warning recorded by Matthew are true: false christs and false prophets have arisen and have managed to lead people astray.

God's people, all people, have the right to expect undershepherds of the Savior to strive to be faithful and accurate representatives of the Redeemer. The way they live should be an example to the church and the community; the things they say should be trustworthy. In truth, it is the pastors' and teachers' job to clearly state what the Lord says, and to refrain from making things up as they go along.

Though every minister is a sinner, I rejoice to know most are quite conscious of their shortcomings. As a result, they are determined in their struggle against the flesh and strive to point people to the Savior who gave His life upon the cross so they might have life.

Centuries ago, St. Paul had a few memorable words for his young friend, Timothy: "I charge you in the presence of God and of Christ Jesus . . . preach the word; be ready in season and out of season; reprove, rebuke, and exhort, with complete patience and teaching" (2 Timothy 4:1a - 2).

Those words of encouragement are just as legitimate today as when they were first written. This is why if you have a pastor who preaches the Word in season and out of season, say a prayer of thanks. You are blessed to know someone who isn't a false prophet pointing to false christs. You have a pastor who can correctly be called a "man of God."

THE PRAYER: Dear Lord Jesus, You are unique. I give thanks for what You have done in Your life, death, and resurrection. Further, I rejoice that You have given to Your Church undershepherds who clearly say, "Thus saith the Lord." In Your Name. Amen.

In Christ I remain His servant and yours,

Today's Bible Readings: 1 Samuel 28-29 Luke 23:26-56
To Download Devotion MP3 to your computer, right click here and select "Save Link As" or "Save Target As" or "Download Linked File As"