"The Gift"
---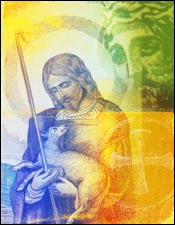 God our Savior appeared, He saved us, not because of works done by us in righteousness, but according to His own mercy, by the washing of regeneration and renewal of the Holy Spirit, whom He poured out on us richly through Jesus Christ our Savior, so that being justified by His grace we might become heirs according to the hope of eternal life." Titus 3: 4b-7
Do you remember the name John Beresford Tipton? Most probably won't.

John Beresford Tipton was the rich man in the 1950s television show called, "The Millionaire". Each week he gave a tax-free million dollars to someone. There were no strings attached other than the recipients were never allowed to reveal the name of the man who gave them the money. The rest of the show revealed how various people used that money.

Of course, we all know that kind of thing never happens, does it?

Well, maybe, maybe not. Last week a couple was eating at Dr. Salami's Café in Pella, Iowa. A man came in, and after talking with them for a while slid a check across the table and asked them to fill it out with any amount they wished. The couple thought he was joking, so they filled out the check in the amount of $100,000.00.

The next day they checked out the check. It was good. The only strings attached to the money were the couple couldn't reveal their last names and, if they have a child together, they would name it after their gift-giver. That last part was because the man said he never had any grandchildren. It's a request they plan to keep.

When I first heard that story, I thought, "Why doesn't that kind of thing happen to me?" Then I realized that kind of thing, and better, has happened to me; and you, and all who know and believe upon Jesus as their Lord and Savior.

When Jesus was born in Bethlehem, He began a lifelong ministry that had as its goal the salvation of souls that had been lost. Jesus did what He did not because we were so good, nor because we had earned it. His entire life and our salvation stems from God's mercy and grace. Now, the Holy Spirit has washed us of our sins and justified us, that is, made us forgiven and right with the Father.

Because of Jesus' sacrifice and resurrection we have received the gift of life and are adopted into the family of faith. We are possessors of eternal life. Because of Jesus' successful sacrifice we have now been given a new name, a proud name: We are called "Christians."

THE PRAYER: Dear Lord Jesus, for giving us more than we had earned or deserved, our most sincere appreciation and praise. May we, adopted into Your family of faith, be given the willingness to share Your salvation story with others. In Your Name, Amen.


In Christ I remain His servant and yours,

Today's Bible Readings: Exodus 29-30 Mark 2
To Download Devotion MP3 to your computer, right click here and select "Save Link As" or "Save Target As" or "Download Linked File As"