"A Proud Father"
---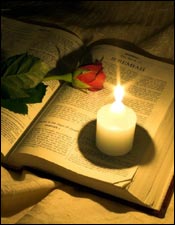 For He received from God the Father honor and glory, when there came such a voice to Him from the excellent glory, This is My beloved Son, in whom I am well pleased. And this voice which came from heaven we heard, when we were with Him in the holy mount. 2 Peter 1:17
Right now, Lee, Maine, is not the happiest town in which to live.

In the last five months, this town with less than 850 inhabitants has lost two young men in Iraq. Joel House and Blair Emery were different in temperament and style, yet Iraq brought them together in many ways.

Both had served a tour of duty and had gone back to Iraq a second time. Both had been wounded; both had lost a friend, and both were killed by a roadside bomb.

There is one other way in which these boys will be brought together. When the cemetery soil thaws in the spring, the two young men from Lee, Maine, will be buried next to each other.

Although the people of Lee, Maine, have differing opinions about the validity of the war, there is no disunity or heated discussion about the way they feel about their boys. They are proud of those young fellows who gave their best—their all in the service of their country.

If I read Scripture correctly, the heavenly Father feels much the same way about His only Son who came to this foreign battlefield called "earth". On the Mount of Transfiguration, from a cloud came His heavenly voice saying, "I am well pleased with My beloved Son."

All of humanity should share the Father's pride in Jesus. In God's only Son, we have a Savior who gave His life so that we might be freed from the tyranny of sin, death, and Satan.

Indeed, because of Jesus' life, death, and resurrection, the families and friends of these young men who will be buried in the Lee, Maine, cemetery can be comforted. By the Holy Spirit's power, they can be given faith to know that a roadside bomb in Iraq hasn't had the final word.

Nor does cancer, heart attack, stroke, accident, or any other way in which death comes to us.
Because of Jesus Christ we are saved to live for all eternity. As the heavenly Father said, we would do well to "listen to Jesus." Yes, we should listen and believe.

THE PRAYER: Heavenly Father, all humanity should stand in awe and admiration at what Your Son has done for us. Because He has done all things well, all who believe are saved. Please, send Your Holy Spirit upon doubting and discouraged souls so they may listen to their Lord. In Jesus' Name. Amen.


In Christ I remain His servant and yours,

Today's Bible Readings: Exodus 14-15 Matthew 26:36-75
To Download Devotion MP3 to your computer, right click here and select "Save Link As" or "Save Target As" or "Download Linked File As"