"We Are All One"
---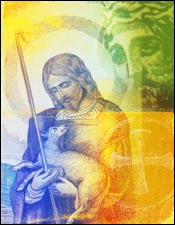 There is neither Jew nor Greek, there is neither slave nor free, there is neither male nor female, for you are all one in Christ Jesus. Galatians 3:28
In the United States, Christianity has gotten a bad rap.

In movies and on TV, Christian men are shown as being narrow-minded fanatics; Christian women are either pushy or doormats to be stepped on. That doesn't even begin to address the subject of how clergy are shown in the media. Those who wear the collar are perverts or prudes, insensitive, inconsiderate, or ignorant.

When it comes to matters political, newscasters can hardly contain their sneer when they say the words, "Evangelical Christian." If you watch television long enough you will conclude that Christianity is responsible for every social ill, human evil, and personal problem.

Maybe that's why the Reuters news article last week was so interesting to me. It appears a royal decree has been issued in Saudi Arabia that now allows the Ministry of Commerce and Industry to lay down new regulations when it comes to women staying in hotels.

Of course, you know in Saudi Arabia women are not allowed to drive a car, and they are not permitted to appear in public unescorted. That's why this is such a major break with tradition. The religious police have now been instructed to allow women to register in a hotel all on their own.

All they have to do is show some personal identification with a photograph that hotel managers must register with local police.

That's progress?

As I look through the Savior's story, I see He had a different perspective. As the verse for today says, "in Jesus there is neither Jew nor Greek, slave nor free, neither male nor female. We are all one in Christ."

When those words were first written, they shook society. It was unthinkable that we should all be equals before God. Even so, that is what Jesus showed in His ministry. He was not adverse to speaking to a Samaritan woman, or sitting down for dinner with a sinner. He was willing to touch a leper and listen to a centurion.

Unthinkable? Not to Jesus. As God's Son, our Savior came into this world to seek and save the lost—all the lost. Jesus came to give His life as a ransom for every human being.

THE PRAYER: Dear Lord Jesus, for the sacrifice You made for all of humanity my most hearty thanks. May I reflect to all I meet Your boundless and unprejudiced love. In Your Name. Amen.


In Christ I remain His servant and yours,

Today's Bible Readings: Genesis 43-45 Matthew 22:23-46
To Download Devotion MP3 to your computer, right click here and select "Save Link As" or "Save Target As" or "Download Linked File As"