"Adoption"
---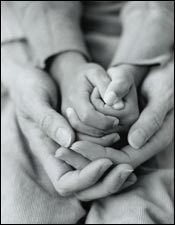 But when the fullness of time had come, God sent forth his Son, born of woman, born under the law, to redeem those who were under the law, so that we might receive adoption as sons. Galatians 4:4-5
South Korean-born orphan Jade seemed to be born under a lucky star.

When she was only four-months-old, Jade was adopted by a Dutch diplomat and his wife.

Brought into a family who already had two biological children, it appeared as if things couldn't get any better for Jade who moved with the family to Indonesia and Hong Kong.

Life was good for Jade. At least that's the way it seemed.

But Jade's new parents never applied for Dutch citizenship for their child.

And now Jade's adopting family have taken her to the Hong Kong Social Welfare Department saying they could no longer take care of her. Jade, they said, was 'emotionally remote.'

In short, Jade's parents returned their adopted child. As the article said, they returned her like an 'unwanted Christmas necktie.' The Dutch newspaper De Telegraaf, has said the child was discarded like a "piece of household rubbish."

Now it's impossible for me to know any of the facts behind Jade's return, other than that which has been reported in the Time article. So, please don't think of this devotion as being written as a condemnation upon Jade's adoptive parents.

No, this devotion is written in thanksgiving that our adoptive Father in heaven hasn't, because of our ongoing disobedience, kicked us out of His family. Because of Jesus' birth, life, suffering, death and resurrection, we have been adopted into the Savior's family of faith. In our new family, no longer are the forces of darkness able to lay claim to us.

Even so, we must confess we are not the best of adopted children.

Each day we commit numerous sins. Each day we rebel against the loving hand of our adoptive Father. Rather than banishing us from His presence, our heavenly Father forgives us of those transgressions. Because of Jesus' sacrifice we are washed of our sins and remain an adopted child in the household of the Lord.

THE PRAYER: Dear heavenly Father, for sending Your Son to take my place under the law; for the forgiveness He has won and the faith You have given, I am most thankful. Today, as Your adopted child, I wish to express my appreciation for the forgiveness you continue to give. Send Your Holy Spirit so my life may show the appreciation my heart feels. In Jesus' Name. Amen.

In Christ I remain His servant and yours,

Today's Bible Readings: Genesis 4-6 Matthew 2
To Download Devotion MP3 to your computer, right click here and select "Save Link As" or "Save Target As" or "Download Linked File As"