"Above The Call Of Duty"
---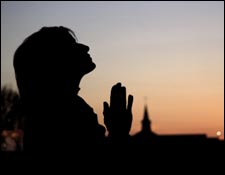 Therefore encourage one another and build one another up, just as you are doing. 1 Thessalonians 5:11
Since the days of the Civil War, 3,400 Congressional Medals of Honor have been awarded. As of this writing, there are only 109 recipients of that medal still alive. The reason there aren't more is simple: most Medal of Honor winners died doing something "above and beyond the call of duty."

One of those living Medal of Honor winners is Viet Nam vet Paul Bucha. I've read of Mr. Bucha's heroics: how he, in the face of overwhelming forces organized his men, got his wounded evacuated, directed artillery fire, distributed ammunition, and single-handedly wiped out a fortified enemy bunker. There is more, a lot more that Paul Bucha did to earn his Medal, but this devotion has space limitations.

The reason I mention Paul Bucha is that he, and a number of his fellow Congressional Medal of Honor winners, believe heroism isn't something limited to soldiers or wartime situations. They believe there are regular folks, every day citizens who have done special things that are also "above the call of duty." So these folks might be honored, the Congressional Medal of Honor winners have set up a Web site (www.aboveandbeyond365.com) where we can nominate heroic people to receive a special award.

Now, if you're wondering what kind of heroic people they're looking for, Paul Bucha explained: "Heroism, in war or peace, is an act of defiance –a deed in which people slam their fist and say, 'No. That isn't going to happen.'"

As I read that Washington Post story, it occurred to me the Savior's name ought to be at the top of the list. Seeing humanity was destined to die, Jesus wasn't going to let this happen. So we might be saved, Jesus became one of us and got involved in a battle to save our souls. For 33 years, He lived "above and beyond the call of duty," fighting against Satan, doing all that was necessary to defeat sin.

Then, during His last days, knowing what was going to happen to Him, Jesus sacrificed Himself. In the last 24 hours of His life, He was unjustly accused; He was beaten, spit upon, whipped, and crowned with thorns. At the end, He received no Medal of Honor from His appreciative countrymen. Instead of being recognized, He was crucified. Seeing what He has done, we must exclaim, "Over and above the call of duty, indeed!"

I'm sure Jesus' Name will not be submitted to these worthy men for honorable consideration. Even so, I can still, as Luther says, "thank and praise, serve and obey Him." It is an honor that the risen Savior deserves.

THE PRAYER: Dear Jesus, for Your life, death, and resurrection that has saved me, I give thanks. May I always honor You as my Savior who went above and beyond the call of duty. In Your Name. Amen.

In Christ I remain His servant and yours,

Today's Bible Readings: Jeremiah 20, 35-36 Colossians 4
To Download Devotion MP3 to your computer, right click here and select "Save Link As" or "Save Target As" or "Download Linked File As"