"Living Advertisements"
---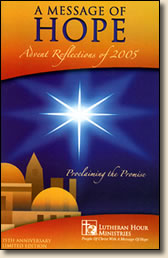 And so John came, baptizing in the desert region and preaching a baptism of repentance for the forgiveness of sins. Mark 1:4
As presented on *The Lutheran Hour® by the Rev. Kenneth R. Klaus, 2003

For the past 75 years, Lutheran Hour Ministries has been "advertising" Jesus. Now, I know some folks might object to the word "advertise" in that line. It seems so base and commercial. But the word "advertise" originally meant, "to turn toward." So, in its purest form, we are turning people toward Jesus. That's something we, and the rest of God's people, are not afraid to do.

At Christmas time, we remembered our Savior's birth. Sent by the Father on a mission of divine grace, He was born so we might never die. Armed with the knowledge of His resurrection and victory, we proudly tell all who are still condemned and cursed that there is hope. Empowered by Christ's command and motivated by our own grateful hearts, we become living advertisements, which say, "In Jesus there is life."

By God's grace, we can be like the college student, a recent convert, who tried to be a living advertisement and make a defense of Jesus before his mocking professor. Not being accustomed to speaking, he hemmed and hawed. At this, the professor cuttingly commented, "Young man, is that the best you can do? You ought to be ashamed of yourself, looking and talking like that."

"Well," the young man replied, "I am ashamed of myself, but I am not ashamed of Christ." Like this college student, we can turn others toward Jesus. Urge them, "look to Jesus who lived His entire life for you. Look to Jesus who died for you." It is the message proclaimed by every Christian who knows the Lamb of God has saved him.

Dear Jesus, make me a living advertisement for You. Use my life to turn others toward Your light. Amen.

Taken from A Message of Hope: Proclaiming the Promise (selections from messages broadcast on *The Lutheran Hour, celebrating 75 years of proclaiming the promise).

Copyright © 2005 by Lutheran Hour Ministries

*The Lutheran Hour is the longest-running Christian radio broadcast in the world. It is a production of Lutheran Hour Ministries. For more information, visit www.lutheranhour.org.

Today's Bible Readings: Genesis 7-9 Matthew 3
To Download Devotion MP3 to your computer, right click here and select "Save Link As" or "Save Target As" or "Download Linked File As"