"Resolved: More Obedience"
---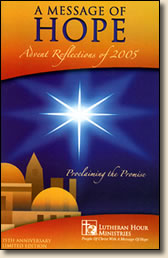 "He committed no sin, and no deceit was found in his mouth." When they hurled their insults at him, he did not retaliate; when he suffered, he made no threats. Instead, he entrusted himself to him who judges justly. He himself bore our sins in his body on the tree, so that we might die to sins and live for righteousness; by his wounds you have been healed. For you were like sheep going astray, but now you have returned to the Shepherd and Overseer of your souls. 1 Peter 2:22-25
As presented on *The Lutheran Hour® by Dr. Dale A. Meyer, 1995

The Law and the Gospel are the two great teachings of God's Word. In the Law, best known by the Ten Commandments, God commands the good that He wants us to do, say, and think. "Be holy," He says, "because I the LORD, your God, am holy" (Leviticus 19:2). Cross over the line of holiness, break the commandments and what does God do? He condemns and promises to punish us. There is only one who has met the demands of holiness, only one who has fulfilled God's commandments. That's Jesus Christ, the perfect Son of God.

The truth of the Law is that you and I have been disobedient. The truth of the Gospel is that through Jesus Christ, God has forgiven us, cleansed us, and purified us. God has made us to be holy in His sight. Today's reading from 1 Peter says, "Christ never committed any sin ... Christ carried our sins in His body on the cross, so that freed from our sins, we could live a life that has God's approval. His wounds have healed you. You were like lost sheep. Now you have come back to the Shepherd and Bishop of your lives."

We who are Christians should never assume that we're such good spiritual drivers that we don't have to pay attention to the Law and the Gospel. Faith in the Gospel has put us (put us, past tense) on the way to heaven. That's why 1 Peter 1:22 uses the past tense. "You have purified yourselves by obeying the truth."

O Lord God, teach us to acknowledge our times of disobedience and work in us more and more faith in our only Savior, Jesus. Amen.

Taken from A Message of Hope: Proclaiming the Promise (selections from messages broadcast on *The Lutheran Hour, celebrating 75 years of proclaiming the promise).

Copyright © 2005 by Lutheran Hour Ministries

*The Lutheran Hour is the longest-running Christian radio broadcast in the world. It is a production of Lutheran Hour Ministries. For more information, visit www.lutheranhour.org.

Today's Bible Readings: Nehemiah 12-13 Revelation 20
To Download Devotion MP3 to your computer, right click here and select "Save Link As" or "Save Target As" or "Download Linked File As"