"Resolved: More Police"
---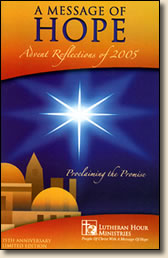 Praise be to the God and Father of our Lord Jesus Christ! In his great mercy he has given us new birth into a living hope through the resurrection of Jesus Christ from the dead, and into an inheritance that can never perish, spoil or fade—kept in heaven for you. 1 Peter 1:3-4
As presented on *The Lutheran Hour® by Dr. Dale A. Meyer, 1995

Peter calls heavenly rest an inheritance. Inheritances have to be earned all right, but they're never earned by the person who inherits them. Someone else goes before, someone else pays the price, someone else makes all the necessary arrangements, someone else does it all so that the heir can have a great gift. What a privileged person it is who receives freely what another has earned.

So let's not blow it! How foolish to squander such an inheritance, as the prodigal son wasted his. How tragic that Christ should suffer for us and then we become complacent about our spiritual lives. "So we must make every effort to enter that place of rest," says Hebrews 4:11. That means that we future-looking, heaven-bound Christians will be accountable for our present lives. We will police ourselves here, lest we fail to come to that perfect society where purity has replaced armed police forces.

Do we need more armed police on the streets to catch the speeders, the crooks, and all the others who disregard the law? Or do we need more people who are self-disciplined, who are concerned about doing right whether someone is there to catch them or not? .

In church jargon, I'm talking here about repentance. Repentance means confessing our sins and believing in Jesus for complete forgiveness. We police our thoughts, our words, and our actions so that we remain aware of our present weaknesses and yearn for that gift of purity and perfection in heaven.

O Lord God, give us the resolve to make this and every day a time of repentance. Amen.

Taken from A Message of Hope: Proclaiming the Promise (selections from messages broadcast on *The Lutheran Hour, celebrating 75 years of proclaiming the promise).

Copyright © 2005 by Lutheran Hour Ministries

*The Lutheran Hour is the longest-running Christian radio broadcast in the world. It is a production of Lutheran Hour Ministries. For more information, visit www.lutheranhour.org.

Today's Bible Readings: Nehemiah 10-11 Revelation 19
To Download Devotion MP3 to your computer, right click here and select "Save Link As" or "Save Target As" or "Download Linked File As"