"Great Expectations"
---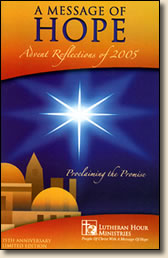 "But you, Bethlehem Ephrathah, though you are small among the clans of Judah, out of you will come for me one who will be ruler over Israel, whose origins are from of old, from ancient times." Micah 5:2
As presented on *The Lutheran Hour® by the Rev. Wallace Schulz, 1994

Now, imagine for a moment if all credit card companies were to announce on nationwide television that on Christmas Eve they would forgive the financial debts of all people who have charged on their credit cards. With the extremely heavy credit card debt in our present population, you can be sure that there would be great celebration as a result of this "across-the-board financial forgiveness."

There is also another debt that is hanging heavily over the homes of many in our nation. This is the debt of guilt over failed marriages and the debt of responsibility of deep divisions between parents and children. If these sin-debts are now dividing you and your family, then let God's Christmas announcement of the forgiveness of this debt in Jesus Christ give you the greatest Christmas in your whole life. You and your family can start over. Your credit card of life in God's sight has now been wiped clean. And for you, this Christmas can surely be a new beginning. The forgiveness of all your past failures is now available and truly possible in the long foretold birth, death, and glorious resurrection of Jesus Christ.

An angel sent by God has made God's intention for you very, very clear. This Jesus born at Christmas was to receive no other name than the name of Jesus. This Jesus was born to save you from the endless agony and the eternal condemnation of your own failures. There has been born for you, my friend, in Bethlehem a long-promised Messiah, a Savior who is Christ the Lord.

Lord Jesus, thank You for forgiving my debt of sin. Help me do likewise for the debts of those around me this Christmas. Amen.

Taken from A Message of Hope: Proclaiming the Promise (selections from messages broadcast on *The Lutheran Hour, celebrating 75 years of proclaiming the promise).

Copyright © 2005 by Lutheran Hour Ministries

*The Lutheran Hour is the longest-running Christian radio broadcast in the world. It is a production of Lutheran Hour Ministries. For more information, visit www.lutheranhour.org.

Today's Bible Readings: Esther 9-10 Revelation 14
To Download Devotion MP3 to your computer, right click here and select "Save Link As" or "Save Target As" or "Download Linked File As"