"Jesus Is Returning"
---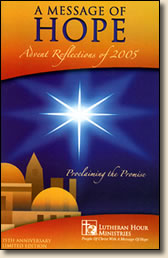 "For he has set a day when he will judge the world with justice by the man he has appointed. He has given proof of this to all men by raising him from the dead." Acts 17:31
As presented on *The Lutheran Hour® by the Rev. Wallace Schulz, 1995

Advent is the time of the church year when we remember that Jesus will return for a second time. It will also be on that day that God will judge whether our first love and devotion and service was for Him, or whether our first love in life was for money and materialism and the lotteries.

If we are driven by the values of this world, then our main concern for the coming weeks will probably focus on materialism and commercialism. But if we are guided by the Spirit of God this Advent season, then this will be a time for us to prepare our hearts and lives for the glorious second coming of Christ.

This means that we will humbly confess our sins—not our neighbors' sins, but our own failures and shortcomings. Advent, you see, means that we will receive, by faith, the Jesus who was crucified on the cross and raised from the dead to save us from our sins.

My friend, let us prepare our hearts and lives for the coming of Christ. Welcome His presence with sincere repentance and faith. Rejoice that God, in Jesus, has totally forgiven you all your sins. And, by faith, believe that because of the sin-atoning work of Christ you and God can be friends again.

Clinging by faith each day to Christ and His saving power also means that you can face your day of judgment with confidence and with great joy!

Dear Jesus, help me to be always on the alert, prepared for Your return. I place all my hope for this life and eternity in You. Amen.

Taken from A Message of Hope: Proclaiming the Promise (selections from messages broadcast on *The Lutheran Hour, celebrating 75 years of proclaiming the promise).

Copyright © 2005 by Lutheran Hour Ministries

*The Lutheran Hour is the longest-running Christian radio broadcast in the world. It is a production of Lutheran Hour Ministries. For more information, visit www.lutheranhour.org.

Today's Bible Readings: Esther 6-8 Revelation 13
To Download Devotion MP3 to your computer, right click here and select "Save Link As" or "Save Target As" or "Download Linked File As"