"Prepare the Way"
---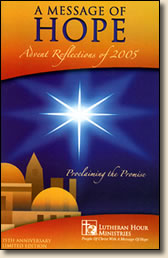 What a wretched man I am! Who will rescue me from this body of death? Thanks be to God—through Jesus Christ our Lord! So then, I myself in my mind am a slave to God's law, but in the sinful nature a slave to the law of sin. Romans 7:24-25
As presented on *The Lutheran Hour® by the Rev. Wallace Schulz, 1994

During Advent we prepare for the second coming of Christ when He will judge the world. It is also that time when we take a good look at ourselves and make a special examination of our lives. What we so often see is not very encouraging; in fact our self-centered lives are often very depressing.

Advent is also when we take a new look at our Lord Jesus and see once again how He helps us and gives us hope. God is the "author" of our living faith. A living faith pleases God by serving men. This same blessed faith prepares us for Christ's second coming and for the great Day of Judgment.

Therefore, especially during the Advent season, let's always remember that visiting the sick, the elderly, and those in prison is not something any of us is going to do naturally. Putting others first is totally against our sinful human nature. The good we would like to do we do not do; and that which we should not, that we do. The apostle Paul cried out: "Wretched man that I am! Who will set me free from this body?" This same spiritually newborn man fortified then by faith in his blessed Savior, exclaimed: "Thanks be to God—through Jesus Christ our Lord" (Romans 7:25).

It is through the Lord Jesus Christ that the apostle Paul had the strength and the power to become the world's greatest missionary. And it is through this same blessed Lord that you will be given the strength to look outside of yourself and to serve others first.

O Lord, we pray, turn our eyes away from ourselves and focus them upon Jesus. Amen.

Taken from A Message of Hope: Proclaiming the Promise (selections from messages broadcast on *The Lutheran Hour, celebrating 75 years of proclaiming the promise).

Copyright © 2005 by Lutheran Hour Ministries

*The Lutheran Hour is the longest-running Christian radio broadcast in the world. It is a production of Lutheran Hour Ministries. For more information, visit www.lutheranhour.org.

Today's Bible Readings: Esther 1-2 Matthew 1 Luke 3
To Download Devotion MP3 to your computer, right click here and select "Save Link As" or "Save Target As" or "Download Linked File As"