"Joy Stirs the Unborn"
---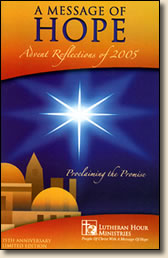 When Elizabeth heard Mary's greeting, the baby leaped in her womb, and Elizabeth was filled with the Holy Spirit. Luke 1:41
As presented on *The Lutheran Hour® by the Rev. Wallace Schulz, 1990

As we launch into this Christmas season, it also might be good to remember a most unusual event that took place during the first Christmas. The evangelist Saint Luke states in our text: "When Elizabeth heard Mary's greeting, the baby leaped in her womb." Yes, that's exactly what the Bible says: "The baby (that Elizabeth was carrying) leaped in her womb." One Biblical scholar dismissed this incident and casually stated: "These and other details should be passed over in respectful silence." We disagree.

Of course, we don't know exactly what caused the unborn child to respond, but let us never forget that the sacred Scriptures state clearly that this momentous event came about when Elizabeth heard Mary's greeting. "Blessed art thou among women," Elizabeth stated. Mary carried within her the most special baby that would ever be born. And by the power of the Holy Spirit, John the Baptist, nestled in the womb of Elizabeth, understood this.

This should not surprise us. The announcement that the Savior was soon to be born was so momentous and so extraordinary that it impacted the young and old, the born and the unborn. The next time you think of the excitement of the Christmas season, think of the joy that Jesus brought to John the Baptist, even before the baptizer was born. Most important of all, my friend, consider the joy that Jesus brings to you this Christmas season.

Dear God, help us to celebrate the birth of Jesus with enthusiasm every day of our lives. Amen.

Taken from A Message of Hope: Proclaiming the Promise (selections from messages broadcast on *The Lutheran Hour, celebrating 75 years of proclaiming the promise).

Copyright © 2005 by Lutheran Hour Ministries

*The Lutheran Hour is the longest-running Christian radio broadcast in the world. It is a production of Lutheran Hour Ministries. For more information, visit www.lutheranhour.org.

Today's Bible Readings: Psalms 107, 126 Revelation 10
To Download Devotion MP3 to your computer, right click here and select "Save Link As" or "Save Target As" or "Download Linked File As"