"The Empty Manger"
---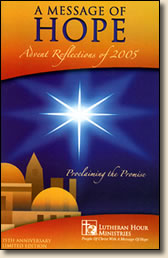 And being found in appearance as a man, he humbled himself and became obedient to death— even death on a cross! Philippians 2:8
As presented on *The Lutheran Hour® by Dr. Oswald C. J. Hoffmann, 1960

Imagine the world to be a great estate. You cannot see the owner, but you can draw conclusions about his intelligence, wealth, and power simply by looking at the estate. Certain signs are posted: "Do not trespass." "Watch the speed limit." Pamphlets on how to use the facilities have been written by guests who report they had instructions from the owner himself. Soon it becomes obvious that the vast majority of guests are behaving as if they were proprietors instead of guests. They give no thanks for the good things they enjoy, but freely criticize. They deliberately break all the house rules. They have so many fistfights with one another that half are sporting black eyes. One cannot help wondering what the host will do if he ever pays them a visit.

We know what happened when the Creator of the world paid us a visit. Though equal with the Father in every way, the eternal Son of God laid aside His privilege, became like a servant and dwelt among us. He was born the Babe of Bethlehem, but He did not remain a cute little baby making no moral demands on the rowdy guests living on the good ground of God's earth. He reiterated the flaming truths preached by the prophets, that God is the Lord and will execute righteousness.

Yet the visit of the Son was more than a call to reform. He demonstrated the mercy and goodness of His Father, promised to all who confess their sins. The empty manger testifies to the unmatched and unrepeatable event which is Jesus Christ.

God, may the empty manger always remind us of the miracle of Jesus. Amen.

Taken from A Message of Hope: Proclaiming the Promise (selections from messages broadcast on *The Lutheran Hour, celebrating 75 years of proclaiming the promise).

Copyright © 2005 by Lutheran Hour Ministries

*The Lutheran Hour is the longest-running Christian radio broadcast in the world. It is a production of Lutheran Hour Ministries. For more information, visit www.lutheranhour.org.

Today's Bible Readings: Psalms 81-83 Revelation 8
To Download Devotion MP3 to your computer, right click here and select "Save Link As" or "Save Target As" or "Download Linked File As"