"A Real Christmas"
---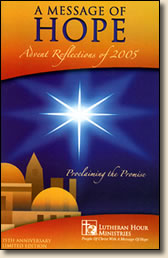 But he had no union with her until she gave birth to a son. And he gave him the name Jesus. Matthew 1:25
As presented on *The Lutheran Hour® by Dr. Oswald C. J. Hoffmann, 1962

Christmas is real all right, made real by the ferocious jealousy of Herod, the cold religiosity of the scribe, the "I-can't-be-bothered" attitude of the man on the street, and the "why-didn't-somebody-tell me?" bleat of the innkeeper who could find no room for the world's Redeemer on the night of His birth in Bethlehem.

Christmas is real all right, in a sinful world still so sure of the wrong things. Sure that there is no God. Sure that if there is a God in this immense universe, He cannot be concerned with men on our little planet. Sure that if He has a care for men, it would not have expressed itself in the birth of a baby at Bethlehem.

To real shepherds on the Judean fields, keeping watch over real sheep on the dusty hillside below Bethlehem, there came angelic Good News: "Unto you is born this day in the city of David a Savior, which is Christ the Lord."

Make room for Christ this Christmas. Don't assign Him to the stable; give Him place in the living space of your home. With uncluttered heart receive Him, giving Him the honor He deserves.

Christ alone makes Christmas real. I wish you a real Christmas, full of the presence and power of Christ, adorned with the joy of faith in the Savior and radiant with His glory.

Lord God, in these days of turmoil and conflict help us to find joy in the birth of Your Son and share the good gifts of Your love and forgiveness with one another in the name of Jesus Christ. Amen.

Taken from A Message of Hope: Proclaiming the Promise (selections from messages broadcast on *The Lutheran Hour, celebrating 75 years of proclaiming the promise).

Copyright © 2005 by Lutheran Hour Ministries

*The Lutheran Hour is the longest-running Christian radio broadcast in the world. It is a production of Lutheran Hour Ministries. For more information, visit www.lutheranhour.org.

Today's Bible Readings: Zechariah 11-12 Revelation 2
To Download Devotion MP3 to your computer, right click here and select "Save Link As" or "Save Target As" or "Download Linked File As"