"Christmas's Contrasts"
---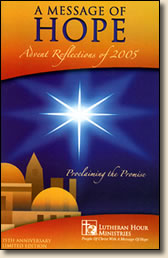 While they were there, the time came for the baby to be born, and she gave birth to her firstborn, a son. She wrapped him in cloths and placed him in a manger, because there was no room for them in the inn. Luke 2:6-7
As presented on *The Lutheran Hour® by Dr. Andrew Melendez, 1959

The more we reflect on the events that lead to that special first Christmas, the more we get a sense of total amazement. On that night, God was reconciling the world with Himself, thus fulfilling a long-announced promise. The Savior of all generations to come was born in a humble stable. It's no surprise at all, then, that the angels would praise God, and the shepherds would glorify Him after all the things they had seen and heard. It's no surprise either that the Magi would travel from a far away land to present gifts to baby Jesus.

To most of the people, that night was no different from any other night. But, in reality, that night was preceded by many events and circumstances, both in heaven and on earth. The decree issued by Caesar Augustus calling for a census of the entire Roman world mobilized thousands of people, including Mary and Joseph, who needed to go to Bethlehem to be registered.

God's plan is taking place… and then, the night— sky blue and covered with stars— opens up and a celestial messenger announces to the shepherds the birth of the Savior.

Let us go back to that humble manger and look at the baby through the eyes of our soul. Can you see the cross on which He's going to die? Darkness has been lifted up, fear has been conquered by love, and hell has been defeated forever.

Praise God, from whom all blessings come. Amen.

Taken from A Message of Hope: Proclaiming the Promise (selections from messages broadcast on *The Lutheran Hour, celebrating 75 years of proclaiming the promise).

Copyright © 2005 by Lutheran Hour Ministries

*The Lutheran Hour is the longest-running Christian radio broadcast in the world. It is a production of Lutheran Hour Ministries. For more information, visit www.lutheranhour.org.

Today's Bible Readings: Zechariah 9-10 Revelation 1
To Download Devotion MP3 to your computer, right click here and select "Save Link As" or "Save Target As" or "Download Linked File As"