"Oh! Little Town of Bethlehem"
---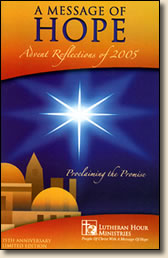 "'But you, Bethlehem, in the land of Judah, are by no means least among the rulers of Judah; for out of you will come a ruler who will be the shepherd of my people Israel.'" Matthew 2:6
As presented on *The Lutheran Hour® by Dr. Andrew Melendez, 1960

What an honor for the little town of Bethlehem! God chose this town, small and insignificant to human eyes, to be the place where the most important act of all history would take place! Bethlehem, the place where God Himself became man. What an unprecedented privilege!

But Bethlehem was too busy, too crowded, and too sleepy to acknowledge what was happening. There were no messengers running down its streets and telling the people about the holy birth. There were no parades to celebrate the coming of the Savior. Everybody was so busy, that they didn't have time to acknowledge the coming of the long-awaited Messiah.

The only ones that heard the message were the shepherds out in the fields, and the small audience to whom the angels announced it. The glory of God was shining, but only a few saw it. Wise men came from afar looking for the King of the Jews, but the local authorities didn't dare go look with them. The little town of Bethlehem was missing history's greatest event!

How blessed are we today! The Bible tells us not only the whole story of that birth, but also what it means for us: Jesus came to fulfill the Law on our behalf and to atone for our sins, so that we can be forgiven and have unrestricted access to God.

Thank You, Lord Jesus. Amen.

Taken from A Message of Hope: Proclaiming the Promise (selections from messages broadcast on *The Lutheran Hour, celebrating 75 years of proclaiming the promise).

Copyright © 2005 by Lutheran Hour Ministries

*The Lutheran Hour is the longest-running Christian radio broadcast in the world. It is a production of Lutheran Hour Ministries. For more information, visit www.lutheranhour.org.

Today's Bible Readings: Zechariah 5-8 Jude
To Download Devotion MP3 to your computer, right click here and select "Save Link As" or "Save Target As" or "Download Linked File As"