"Getting Ready for Christmas"
December 6, 2005
Email to a Friend
Print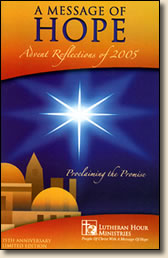 A voice of one calling: "In the desert prepare the way for the LORD; make straight in the wilderness a highway for our God. Isaiah 40:3
As presented on *The Lutheran Hour® by the Rev. Armin Oldsen, 1951

If our Christmas is to be truly a Christ festival, we'll have to get ready for it. Those nine melancholy monosyllables in the Christmas story reveal a tragic situation: "There was no room for them in the inn." The innkeeper was not ready for Christ. There were crowds in Bethlehem. The family of David was meeting in grand reunion. Business was good, you know! But the visit of Mary and Joseph and the newborn Christ Child passed quickly and the innkeeper never got to meet the Savior, because he was not ready.

How different it was with aged Simeon! He was waiting for the Christ Child—had been for a long time. Each morning he probably arose with the thought that the day might finally bring the revelation of his Savior. Daily he went to the temple with happy anticipation and full of hope. And what a happy Christmas the old man finally had. With the Christ Child in his arms he sang one of the first great Christmas songs, known to us as the Nunc Dimittis: "Lord, now lettest thou Thy servant depart in peace … for mine eyes have seen Thy salvation." Simeon was ready.

How does one get ready for Christmas—in his soul, I mean, and in his heart? "We get hold of God by the handle of our sins." The true God will not be found in quest of religion. He is waiting for sinners in search of salvation.

Lord Jesus, prepare this sinner's heart to meet You this Christmas. Amen.

Taken from A Message of Hope: Proclaiming the Promise (selections from messages broadcast on *The Lutheran Hour, celebrating 75 years of proclaiming the promise).

Copyright © 2005 by Lutheran Hour Ministries

*The Lutheran Hour is the longest-running Christian radio broadcast in the world. It is a production of Lutheran Hour Ministries. For more information, visit www.lutheranhour.org.