"The Light of Life at Bethlehem"
---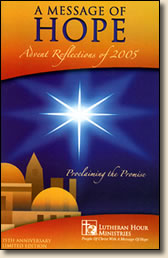 When Jesus spoke again to the people, he said, "I am the light of the world. Whoever follows me will never walk in darkness, but will have the light of life." John 8:12
As presented on *The Lutheran Hour® by Dr. Walter A. Maier, 1941

"More light for Christmas!" a New York publisher asks as his eight full-length-column advertisements in the nation's leading newspapers plead for a blaze of illumination in homes, factories, business offices, and public buildings on Christmas Eve. Europe is darkened by blackouts, he reminds us, and America should show the world our free way of life by turning on a flood of Yuletide brightness.

No one should oppose his appeal, especially not under present conditions. This may be the last peace-and-prosperity Christmas America will celebrate in our generation, so let us enjoy light and laughter while we can. We do, however, object to the fact that this light campaign is being waged without a word about the Lord Jesus Christ, whose birth gave us Christmas.

Particularly, must we disagree with the proposal to make these lighted homes what the imposing newspaper advertisements want them to be: evidence of "our faith in the decency and dignity of man." Was there ever an age in which less value and dignity was attached to men's lives than in these breakdown years, with the mass destruction of human beings in two World Wars? I for one, and millions of Christians with me, place no reliance on our own decency and dignity. At Christmas we reaffirm our trust in God, our confidence in the Christ Child, the Savior of sinners, and the light of life at Bethlehem.

Prayer: Holy Spirit, give us Your good will toward our enemies and those in the darkness of unbelief as the light of Your good will toward us has brightened our path! Amen.

Taken from A Message of Hope: Proclaiming the Promise (selections from messages broadcast on *The Lutheran Hour, celebrating 75 years of proclaiming the promise).

Copyright © 2005 by Lutheran Hour Ministries

*The Lutheran Hour is the longest-running Christian radio broadcast in the world. It is a production of Lutheran Hour Ministries. For more information, visit www.lutheranhour.org.

Today's Bible Readings: Ezekiel 40-41 2 Peter 3
To Download Devotion MP3 to your computer, right click here and select "Save Link As" or "Save Target As" or "Download Linked File As"