"Living in the Daylight"
---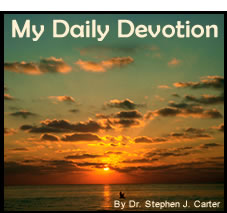 But since we belong to the day, let us be self-controlled. 1 Thessalonians 5:8
Many discussions about the end of the world focus on the exact time sequence and various other details. Paul, however, emphasizes the implications of Christ's Second coming for daily living – living in the daylight. "Since we belong to the day, let us be self-controlled." He first admonishes that we be awake and sober, not asleep and drunk. Does the world tranquilize us with its many pleasures so that we fall asleep? How easy to get wrapped up in television, bowling, social clubs, shopping, and travel! These activities, fine in themselves, can divert us from God's plan for our lives. In addition, Satan tempts us to succumb to the sinful deeds of the night – revelry, drunkenness, and sexual immorality.

Second, Paul encourages us to put on the armor of God. The breastplate of faith enables us to trust God with each day's problems. The breastplate of love flows from faith. Love penetrates the darkness as nothing else can. The helmet of hope equips us to live soberly each day. No matter how dark the day, the hope of Christ's return keeps the light burning.

Third, Paul asks to "encourage one another and build each other up." The world discourages us and tears us down. People scoff at our faith and ridicule our Christian standards. But we have the precious Gospel message to share with one another. "He [Christ] died for us so that, whether we are awake or asleep, we may live together with Him" (1 Thessalonians 5:10).

Yes, living in the light naturally follows from the fact that God has made us children of the light. By God's grace we stay awake, wear the armor of God, and encourage one another with salvation through our Lord Jesus Christ.

PRAYER: Lord Jesus, Light of the world, gird me with Your armor so that I may not stray from Your Light. Amen.

(Devotions from "My Daily Devotion" by Dr. Stephen J. Carter, copyright 1988 CPH. All Rights Reserved. No part of this publication may be printed, reproduced, stored in a retrieval system, or transmitted, in any form or by any means, electronic, mechanical, photocopying, recording or otherwise, without prior written permission of Concordia Publishing House. Permission is granted for one-time emailing of this link to a friend. For ordering information, please contact CPH at 800-325-3040 or visit www.cph.org.)

Today's Bible Readings: Ezekiel 30-32 1 Peter 4
To Download Devotion MP3 to your computer, right click here and select "Save Link As" or "Save Target As" or "Download Linked File As"