"Ready for the Bridegroom?"
---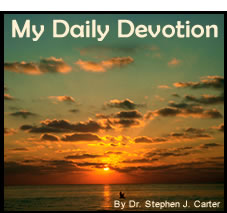 "The virgins who were ready went in with him to the wedding banquet. And the door was shut." Matthew 25:10
The time – 7:15 a.m. The place – the MGM Hotel in Las Vegas. Many asleep, unsuspecting. Suddenly the unexpected, a devastating fire sweeps through the hotel. Over 100 lives lost. 500 injured. Tragedy. Not ready for the crisis.

The text describes a more joyful event – a wedding feast. But readiness remains the issue. The ten maidens await the wedding procession with lamps. Five are wise, with lamps trimmed and well-supplied with oil. Five are foolish, with lamps not supplied with oil. Unexpectedly at midnight the bridegroom comes. Our text tells what happens.

Are you looking forward to the Bridegroom's coming? When you consider Jesus Christ coming again at the end of the world, do you thrill with anticipation or stir uneasily? Are you ready to die and go to heaven? Do these events remind you more of a destructive hotel fire or a joyful wedding feast? Confession time. Are you prepared for the Bridegroom's coming? Preparation means trusting Jesus Christ alone for salvation. God prepared the way for Him to take on human flesh, to live a perfect life, and to die for the world's sin. God prepares us to meet Jesus through Baptism, the Word of God, and the Lord's Supper.

Lacking motivation and discipline, we often neglect God's grace for us. Like the foolish virgins we may find that the lamps of our faith are going out. But God is faithful and just to rekindle our faith, to forgive us our sins of poor preparation, and to cleanse us from all unrighteousness. Thus we await His coming.

PRAYER: I am trusting You, Lord Jesus, trusting only You, for my salvation. I anxiously await your coming. Amen.

(Devotions from "My Daily Devotion" by Dr. Stephen J. Carter, copyright 1988 CPH. All Rights Reserved. No part of this publication may be printed, reproduced, stored in a retrieval system, or transmitted, in any form or by any means, electronic, mechanical, photocopying, recording or otherwise, without prior written permission of Concordia Publishing House. Permission is granted for one-time emailing of this link to a friend. For ordering information, please contact CPH at 800-325-3040 or visit www.cph.org.)

Today's Bible Readings: Ezekiel 27-29 1 Peter 3
To Download Devotion MP3 to your computer, right click here and select "Save Link As" or "Save Target As" or "Download Linked File As"