"Have You Learned to be Content?"
---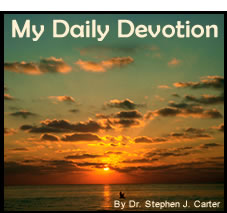 I have learned to be content whatever the circumstances. Philippians 4:11
A picture of contentment. The family gathers around the bountiful Thanksgiving table with turkey and all the trimmings. Norman Rockwell captures the moment. A precious but fleeting moment. The larger question, however: Have you learned to be content?

Leaving the serene Thanksgiving tableau, many live in perpetual discontent, ruled by circumstances. Paul writes to the Philippians that "whether well fed or hungry, whether living in plenty or in want" (Philippians 4:12), he has learned to be content. For the discontented, circumstances always spell trouble. Never enough. Always wanting more, more, more. We want more wages, profits, possessions. Perhaps we even want more of the turkey's white meat than the person sitting next to us.

Some seek a false contentment. They strive to be self-sufficient and self-satisifed. The Stoics used the Greek word for contentment to describe a life-style of wanting little and not caring. Both desire and feelings were eliminated by an act of the will. Such an attempt at self-imposed contentment robs us of joy and peace.

Paul describes true contentment as Christ-sufficient and Christ-satisfied. "I can do everything through Him who gives me strength" (Philippians 4:13). Jesus Christ was content to do the Father's bidding. He came to earth in difficult circumstances, with the forces of hell pitted against Him. Yet He could enjoy the lilies of the field, sleep peacefully in a storm-tossed boat, stand silent before His tormentors, and ultimately cry, "It is finished" (John 19:30). "He died for all": (2 Corinthians 5:15). He forgives sins of both discontent and false contentment.

As you celebrate Thanksgiving and savor the pumpkin pie, learn the meaning of true contentment – doing everything through Christ, who strengthens us.

PRAYER: Lord, let me rest content in Your salvation. Amen.

(Devotions from "My Daily Devotion" by Dr. Stephen J. Carter, copyright 1988 CPH. All Rights Reserved. No part of this publication may be printed, reproduced, stored in a retrieval system, or transmitted, in any form or by any means, electronic, mechanical, photocopying, recording or otherwise, without prior written permission of Concordia Publishing House. Permission is granted for one-time emailing of this link to a friend. For ordering information, please contact CPH at 800-325-3040 or visit www.cph.org.)

Today's Bible Readings: Ezekiel 20-21 2 Timothy 4
To Download Devotion MP3 to your computer, right click here and select "Save Link As" or "Save Target As" or "Download Linked File As"