"A Thief in the Night"
---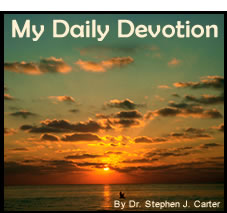 For you know very well that the day of the Lord will come like a thief in the night. 1 Thessalonians 5:2
We all dread the possibility of a thief in the night. With the family sleeping, a thief quietly breaks in and enters thorough a window or door. Armed with knife or gun, he stealthily sneaks around looking for money and valuables. Just thinking about it strikes terror in our hearts, giving grotesque meaning to shadows in our room or strange noises in the night.

Paul uses this imagery to describe the sudden coming of the day of the Lord at the end of the world. People will be talking about "peace and safety" when destruction comes suddenly. We think of the days of Noah, when the flood came without warning.

At the end of the church year Christians contemplate the end of the world. For everyone living in darkness that day spells terror, destruction, punishment. Judgment Day means a day of reckoning, with no escape, no warning.

But Paul has good news for us. "You, brothers, are not in darkness so that this day should surprise you like a thief. You are all sons of the light and sons of the day" (1 Thessalonians 5:4, 5). "God did not appoint us to suffer wrath, but to receive salvation through our Lord Jesus Christ" (verse 9). In the very darkness of Good Friday, Jesus shone forth on the cross as the Savior of the world. Easter morning light brought proof of His victory.

We live in the light of Easter. We have been "called … out of darkness into His wonderful light" (1 Peter 2:9). Forgiven, we wait expectantly for the day of the Lord, when Jesus will appear again to take us to heaven. We don't know the day or the hour when He will return. But as children of the light we will not be surprised but will welcome our salvation with open arms.

PRAYER: Lord, prepare us with Your saving light for Your sudden return. Amen.

(Devotions from "My Daily Devotion" by Dr. Stephen J. Carter, copyright 1988 CPH. All Rights Reserved. No part of this publication may be printed, reproduced, stored in a retrieval system, or transmitted, in any form or by any means, electronic, mechanical, photocopying, recording or otherwise, without prior written permission of Concordia Publishing House. Permission is granted for one-time emailing of this link to a friend. For ordering information, please contact CPH at 800-325-3040 or visit www.cph.org.)

Today's Bible Readings: Ezekiel 16-17 2 Timothy 2
To Download Devotion MP3 to your computer, right click here and select "Save Link As" or "Save Target As" or "Download Linked File As"