"Really Free"
---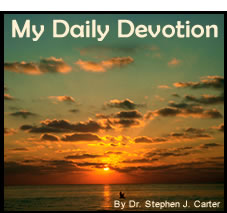 "So if the Son sets you free, you will be free indeed." John 8:36
On Reformation Day we celebrate the gift of God to the church through His servant Martin Luther. Luther reminded us of our freedom from the Law in the Gospel of Jesus Christ.

Jesus told the self-satisfied religious leaders of His time, "Everyone who sins is a slave to sin" (John 8:34). You see, they thought, "I've got it made." They believed that their birth automatically made them free. In the 16th century many religious people felt much the same way: "I've got it made." Birth and religious vocation give a false sense of freedom. Is it possible for lifelong church members with good records to make the same mistake – "I've got it made"?

Another tragically mistaken group says, "I've got to make it." People in Jesus' day followed the Pharisees and tried to keep their religious laws to the finest detail. Paul once lived by those standards, "I've got to make it." In the 16th century many struggled to gain freedom from guilt through prayers, fastings, pilgrimages, and indulgences. Is it possible that today many depend on church attendance, financial contributions, church work, and acts of service to make it before God? A hopeless task!

Then we eagerly realize: The Son makes me free. Jesus Christ took on the slavery of the Law and died to atone for the world's sin. God declares the world righteous for Jesus' sake. "So if the Son sets you free, you will be free indeed." When Luther discovered that freedom through faith in Christ, the gates of paradise opened to him. We rejoice in our movement from slavery to freedom and live in that freedom.

PRAYER: Dear Jesus, thank You for making me really free. Keep me always in that freedom. Amen.

(Devotions from "My Daily Devotion" by Dr. Stephen J. Carter, copyright 1988 CPH. All Rights Reserved. No part of this publication may be printed, reproduced, stored in a retrieval system, or transmitted, in any form or by any means, electronic, mechanical, photocopying, recording or otherwise, without prior written permission of Concordia Publishing House. Permission is granted for one-time emailing of this link to a friend. For ordering information, please contact CPH at 800-325-3040 or visit www.cph.org.)

Today's Bible Readings: Jeremiah 50 Hebrews 6
To Download Devotion MP3 to your computer, right click here and select "Save Link As" or "Save Target As" or "Download Linked File As"