"Giving vs. Hoarding"
---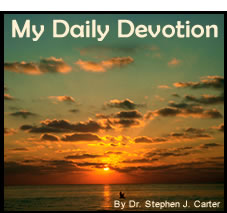 One man gives freely, yet gains even more; another withholds unduly, but comes to poverty. Proverbs 11:24
All we have comes from God, and He expects us to share with others what has been entrusted to us. We are indeed to give generously and sacrificially to the Lord and to those in need. And God blesses, not because we have earned it but simply because He loves us.

Or we can choose a life-style of hoarding: "Another withholds unduly, but comes to poverty." We started hoarding when as children in the sandbox we kept our own blocks from our playmates. That same hoarding spirit leads us to withhold gifts from the Lord. Hoarding needs to be labeled for what it is - sin. Though we withhold to gain riches, the proverb is correct in saying that hoarding leads to eternal poverty.

How can we learn to give generously? Saint Paul gives the answer, "For you know the grace of our Lord Jesus Christ, that though He was rich, yet for your sakes He became poor, so that you through His poverty might become rich" (2 Corinthians 8:9). God freely gave us His Son Jesus to become poor so that we might be rich - rich in forgiveness, grace, and mercy. Because of His death, we are motivated to give.

Giving is living. Hoarding is death. God gives us His Son so that we might adopt a life-style of giving. Keep that in mind as you respond to the many opportunities for giving that are all around us.

PRAYER: Thank You, Dear Lord, for giving us Your Son who became poor so we might be rich. Grant us grateful hearts willing to give to You and to those in need. Amen.

(Devotions from "My Daily Devotion" by Dr. Stephen J. Carter, copyright 1988 CPH. All Rights Reserved. No part of this publication may be printed, reproduced, stored in a retrieval system, or transmitted, in any form or by any means, electronic, mechanical, photocopying, recording or otherwise, without prior written permission of Concordia Publishing House. Permission is granted for one-time emailing of this link to a friend. For ordering information, please contact CPH at 800-325-3040 or visit www.cph.org.)

Today's Bible Readings: Jeremiah 47-48 Hebrews 2
To Download Devotion MP3 to your computer, right click here and select "Save Link As" or "Save Target As" or "Download Linked File As"