"The Need for Spiritual Healing"
---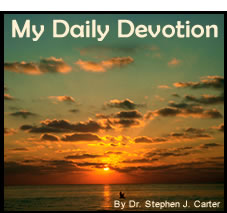 "Take heart, son; your sins are forgiven." Matthew 9:2
Jesus teaches in Galilee. Crowds gather in a small house to hear Him. Four men bearing a paralytic on a stretcher devise a method to lower the man to Jesus from the flat rooftop. What is the man's greatest need? Obviously he is paralyzed and cannot walk. Jesus sees that the man needs forgiveness. Dead in sin, he needs a miracle of spiritual healing. He cannot lift a finger to help himself. The need for spiritual healing always comes first.

Are you willing to let Jesus diagnose your needs? He comes with keen eye and a sure knowledge of your condition. He explores every nook and cranny of your life. You may identify a host of physical needs – illness, injuries, financial problems, family difficulties – all very real and painful to you. But Jesus probes beneath the obvious problems to your need for forgiveness and spiritual healing.

Jesus says to the man, "Take heart, son; your sins are forgiven." What sweet music to his ears – sins forgiven! He experiences peace inside. Still physically paralyzed, the man feels unburdened, clean, and whole. Jesus has authority to forgive sins because He is God. He will earn forgiveness for the world by dying on the cross in full payment of sin. Spiritual healing accomplished!

Jesus says to us, "Take heart; your sins are forgiven you." He announces it every Sunday morning in the liturgy, bestows it through the preached Word and the Holy Supper. What sweet music to our ears! Physical problems may remain, but we have peace with God through our Lord Jesus Christ. We feel unburdened, clean, and whole. Thank God for daily forgiveness. Spiritual healing accomplished!

PRAYER: Thank You, Lord God, for forgiving my sins daily through Your Son, Jesus Christ, who gives me peace. Amen.

(Devotions from "My Daily Devotion" by Dr. Stephen J. Carter, copyright 1988 CPH. All Rights Reserved. No part of this publication may be printed, reproduced, stored in a retrieval system, or transmitted, in any form or by any means, electronic, mechanical, photocopying, recording or otherwise, without prior written permission of Concordia Publishing House. Permission is granted for one-time emailing of this link to a friend. For ordering information, please contact CPH at 800-325-3040 or visit www.cph.org.)

Today's Bible Readings: Jeremiah 20, 35-36 Colossians 4
To Download Devotion MP3 to your computer, right click here and select "Save Link As" or "Save Target As" or "Download Linked File As"