"What's Your Measuring Stock?"
---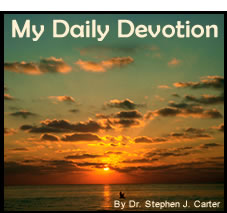 "He must become greater; I must become less." John 3:30
When my son was growing up, he was constantly measuring to see how tall he was. A number of marks on the wall told the story. How do you measure your place in life? John the Baptizer uses an unusual measure in our text when he says of Jesus, "He must become greater; I must become less," instead of "I must become greater."

Jesus had arrived on the scene and was calling disciples, some of them former disciples of John. Furthermore, He was starting to gain popularity with the multitudes. Certainly some of John's disciples were concerned. "Everyone is going to Him," they said (John 3:26). By their measuring sticks, John was failing in his competition with Jesus.

Is your measuring stick, "I must become greater?" Are you seeking recognition, success, advancement, higher income, greater social standing? Do you view your relationship to Christ and the church as an opportunity for personal gain? Do you become jealous when others outshine you or Christ receives the credit? An "I must become greater" measuring stick simply measures our sin and selfishness.

But John was using a totally different measuring stick He rejoiced that Jesus was active in ministry to save the world – the Lamb of God taking away our sins (see John 1:29). He saw his own mission as pointing to Jesus and our need for Him. John now wanted to become less, so that Jesus could become greater. He was content to be friend of the Bridegroom. That was his great joy (see John 3:29).

The best measuring stick for us is "He must increase." Jesus loves us, died to save us, and lives to strengthen us in His service. He is our life and hope. The greater He becomes, the greater is our joy.

PRAYER: Lord, help me to become less, so that in the eyes of many you will become greater as Savior and Lord. Amen.

(Devotions from "My Daily Devotion" by Dr. Stephen J. Carter, copyright 1988 CPH. All Rights Reserved. No part of this publication may be printed, reproduced, stored in a retrieval system, or transmitted, in any form or by any means, electronic, mechanical, photocopying, recording or otherwise, without prior written permission of Concordia Publishing House. Permission is granted for one-time emailing of this link to a friend. For ordering information, please contact CPH at 800-325-3040 or visit www.cph.org.)

Today's Bible Readings: Jeremiah 18-19 Colossians 3
To Download Devotion MP3 to your computer, right click here and select "Save Link As" or "Save Target As" or "Download Linked File As"