"Greed: A Dead End"
---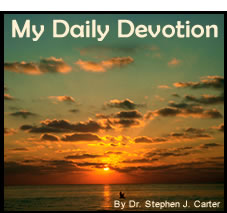 "Watch out! Be on your guard against all kinds of greed." Luke 12:15
Greed, an ugly word. One of the deadly vices recognized already by philosophers in the ancient world. Condemned by the New Testament. The Greek word simply means "wanting more." How deceptively simple, yet how deadly! Just one more piece of candy. Just one more amusement park ride before heading home.

Jesus tells the story of the rich man with a good crop who tears down his barns and builds bigger ones to store his grain and goods. Relishing his plenty, the man plans to take life easy – eat, drink, and be merry. Then comes the door slamming in his face, the evidence that greed leads only to a dead end. God says to him, "You fool! This very night your life will be demanded from you." (Luke 12:20).

Two lessons from the barn builder:

(1) Don't seek material wealth instead of God's riches.

(2) Selfish acquiring leads to death, generous giving to life.

Think about the surrounding culture. Greed prevails under the guise of the good life. Professional sports figures escalate salaries. Television game shows encourage and produce greedy contestants with an insatiable urge for more. And our day-by-day lives quickly fill with the quest for more – savings, investments, cars, houses, and appliances. Selfish acquiring replaces generous giving to God and others. A serious sin to confess.

Comes Christ with life. "For you know the grace of our Lord Jesus Christ, that though He was rich, yet for your sakes He became poor, so that you through his poverty might become rich" (2 Corinthians 8:9). The riches of full and free forgiveness. Greed crucified with Christ. Greed-forgiven saints rising to new life. No need for new barns. Rich in God's grace. "Wanting more" no longer, because we already have glorious riches in Christ. "Giving more" now from His inexhaustible supply.

PRAYER: Lord, replace my greed with contentment in Your forgiveness. Amen.

(Devotions from "My Daily Devotion" by Dr. Stephen J. Carter, copyright 1988 CPH. All Rights Reserved. No part of this publication may be printed, reproduced, stored in a retrieval system, or transmitted, in any form or by any means, electronic, mechanical, photocopying, recording or otherwise, without prior written permission of Concordia Publishing House. Permission is granted for one-time emailing of this link to a friend. For ordering information, please contact CPH at 800-325-3040 or visit www.cph.org.)

Today's Bible Readings: Jeremiah 9-10 Colossians 1
To Download Devotion MP3 to your computer, right click here and select "Save Link As" or "Save Target As" or "Download Linked File As"