"Bush in the Wastelands?"
---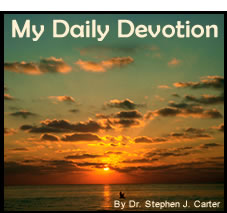 "Cursed is the one who trusts in man … He will be like a bush in the wastelands." Jeremiah 17:5
Our town features a botanical conservatory. One walks from a seasonal display room through a tropical forest into a desert with barren terrain and cactus. The contrast startles. Jeremiah stoutly addresses a wicked Judah with the real possibility of eternal life in a wasteland.

He writes against their idolatry: "Cursed in the one who trusts in man, who depends on flesh for his strength, and whose heart turns away from the LORD. He will be like a bush in the wastelands: he will not see prosperity when it comes. He will dwell in the parched places of the desert, in a salt land where no one lives" (Jeremiah 17:5-6). How stark and hopeless these words are for those who trust in themselves.

Would Jeremiah describe you as a bush in the wastelands? You may be seeking prosperity, fashioning success with your own hands, and gaining praise from people in the world. But if your heart turns away from the Lord and you depend on flesh for your strength, you will be like an isolated bush in the wastelands, with no hope for the future.

Shocked to attention, we realize our pride and our foolishness. We look to the One tempted in a wilderness to depend on flesh for strength by changing stones into bread and to turn away from the Father by bowing down and worshiping Satan. But we know how Jesus overcame these temptations. On our behalf He was willing to hang, so to speak, on a lonely tree in the wastelands, where He fully paid for our sins. Because He thirsted and died, we need not dwell alone as a bush in the wastelands but can sing His praises forever in heaven.

PRAYER: Thank You, Lord Jesus, for thirsting and dying on the cross so that I can sing Your praises forever in heaven. Amen.

(Devotions from "My Daily Devotion" by Dr. Stephen J. Carter, copyright 1988 CPH. All Rights Reserved. No part of this publication may be printed, reproduced, stored in a retrieval system, or transmitted, in any form or by any means, electronic, mechanical, photocopying, recording or otherwise, without prior written permission of Concordia Publishing House. Permission is granted for one-time emailing of this link to a friend. For ordering information, please contact CPH at 800-325-3040 or visit www.cph.org.)

Today's Bible Readings: Isaiah 43-44 Romans 8:1-21
To Download Devotion MP3 to your computer, right click here and select "Save Link As" or "Save Target As" or "Download Linked File As"