"Living Water and Broken Cisterns"
---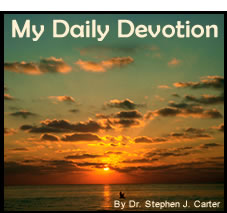 "They have forsaken Me, the Spring of Living Water, and have dug their own cisterns, broken cisterns that cannot hold water." Jeremiah 2:13
Jeremiah speaks to a sinful Judah with powerful imagery. Precious water meant life to ancient peoples in the dry Near East. Attacking military forces laid siege to walled cities and tried to cut them off from their water supply. Now Jeremiah suggests Judah's twofold foolishness. First, they have forsaken Him, their "Spring of Living Water." Second, they have dug their own cisterns, which turn out to be broken and unable to hold water. Their own efforts have failed miserably.

Don't we often try to construct our own cisterns to hold the water of this world? We want wealth, pleasure, success, happiness, recognition. But these cisterns don't hold water. All the while we have forsaken the never-ending Spring of Living Water provided by a loving God. Confession time.

Jesus refers to Himself as Living Water which will forever quench our thirst. Our selfish attempts to trap water for ourselves fail in broken cisterns. But He offers us Himself. He lived, died, and rose again for us. In the waters of Baptism we receive Him as our Spring of Living Water. The Spirit flows forth from us as we regularly use His Word and sacraments. Broken cisterns abandoned, we come in faith to God's Spring of Living Water, where we invite others to drink as well.

PRAYER: Thank You, dear Jesus, for being the Spring of Living Water which quenches my thirst and revives my soul. Amen.

(Devotions from "My Daily Devotion" by Dr. Stephen J. Carter, copyright 1988 CPH. All Rights Reserved. No part of this publication may be printed, reproduced, stored in a retrieval system, or transmitted, in any form or by any means, electronic, mechanical, photocopying, recording or otherwise, without prior written permission of Concordia Publishing House. Permission is granted for one-time emailing of this link to a friend. For ordering information, please contact CPH at 800-325-3040 or visit www.cph.org.)

Today's Bible Readings: Isaiah 41-42 Romans 7
To Download Devotion MP3 to your computer, right click here and select "Save Link As" or "Save Target As" or "Download Linked File As"