"Jeremiah's Call: God's Words in My Mouth"
---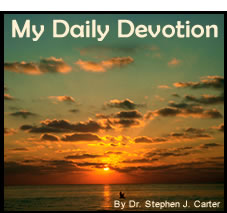 Then the LORD reached out His hand and touched my mouth and said to me, "Now, I have put My words in your mouth." Jeremiah 1:9
The Word of the Lord came to Jeremiah, announcing his call. He learned that he was set apart as a prophet to the nations. Doubts rose within him that he could not speak and was only a child. God's assurance came with the words, "Do not be afraid of them" (Jeremiah 1:8). Now the Lord provides Jeremiah with the words he will speak as a prophet. "Then the LORD reached out His hand and touched my mouth and said to me, 'Now I have put My words in your mouth.'"

That Word consumes Jeremiah. He later writes, "…His Word is in my heart like a fire, a fire shut up in my bones. I am weary of holding it in; indeed, I cannot" (Jeremiah 20:9). He simply obeys God and speaks powerfully against Judah's sins. Sometimes he illustrates the Word with symbols of God's message. But always he communicates God's message. The result – God's Word of judgment is vindicated in the destruction of Jerusalem, and His Word of promise materializes in the new covenant ushered in by Jesus Christ, the Crucified One.

What a powerful description of God's call! He specially entrusted Jeremiah with His very own words of judgment and mercy. He also gives His Word to called and ordained servants as they publicly preach the Word and administer the sacraments. They are to speak God's Word, not their own message. He also touches the mouth of each Christian and puts in His words. We are touched by the Word in Baptism and made new creatures in Christ. We feed on that Word as proclaimed by pastors. And we share that Word with others in our daily calling. Yes, Jeremiah's call has much to teach us about God's call in our lives. And His word holds the answers.

PRAYER: Father, thank You for touching my mouth with Your Words of Life. Open my mouth to speak to others. Amen.

(Devotions from "My Daily Devotion" by Dr. Stephen J. Carter, copyright 1988 CPH. All Rights Reserved. No part of this publication may be printed, reproduced, stored in a retrieval system, or transmitted, in any form or by any means, electronic, mechanical, photocopying, recording or otherwise, without prior written permission of Concordia Publishing House. Permission is granted for one-time emailing of this link to a friend. For ordering information, please contact CPH at 800-325-3040 or visit www.cph.org.)

Today's Bible Readings: Isaiah 39-40 Romans 6
To Download Devotion MP3 to your computer, right click here and select "Save Link As" or "Save Target As" or "Download Linked File As"