"Jeremiah's Call: Doubts Expressed"
---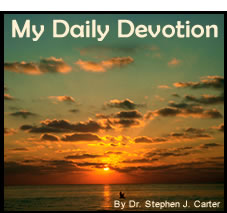 "Ah, Sovereign LORD," I said, "I do not know how to speak; I am only a child." Jeremiah 1:6
The Word of the Lord speaks. We hear. "Set … apart … as a prophet to the nations" (Jeremiah 1:5). A tremendous challenge for Jeremiah. A difficult application for us as modern-day proclaimers of Christ's love. We hear. But now what?

Jeremiah expresses serious doubts about his own ability to answer God's call. He responds, "Ah, Sovereign LORD, I do not know how to speak; I am only a child." He trembles. What good is a prophet who can't speak? Echoes of Moses by the burning bush! (see Exodus 3). How can an immature teenager (which Jeremiah may have been) stand before kings and princes? Good questions. Serious doubts. And Jeremiah would indeed be tested beyond human endurance – physically, emotionally, and spiritually. He would suffer rejection after rejection. But assurance and maturity would come from God's words and His steady presence. But for the moment Jeremiah's doubts remain.

Do you have serious doubts about your ability to speak God's Word and stand boldly as a Christian in difficult situations? Do you feel like a child in your spiritual maturity even though you may have gray hair and a solid standing in society? Like Jeremiah, we can also expect stiff tests of our faith as we answer God's call to service – possible rejections, day-by-day temptations, and flagging zeal. "Ah, Sovereign LORD, I do not know how to speak; I am only a child."

Serious doubts. But God will supply the words to speak, and His forgiving presence in Jesus Christ, the Crucified, to mature us. The call stands.

PRAYER: Dear Father, quell our doubts with Your love in Jesus Christ. Amen.

(Devotions from "My Daily Devotion" by Dr. Stephen J. Carter, copyright 1988 CPH. All Rights Reserved. No part of this publication may be printed, reproduced, stored in a retrieval system, or transmitted, in any form or by any means, electronic, mechanical, photocopying, recording or otherwise, without prior written permission of Concordia Publishing House. Permission is granted for one-time emailing of this link to a friend. For ordering information, please contact CPH at 800-325-3040 or visit www.cph.org.)

Today's Bible Readings: Isaiah 34-36 Romans 4
To Download Devotion MP3 to your computer, right click here and select "Save Link As" or "Save Target As" or "Download Linked File As"