"Jeremiah's Call: The Word of the Lord"
---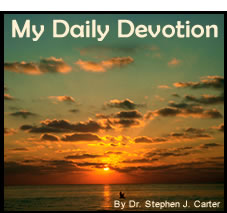 The Word of the LORD came to me, saying …. Jeremiah 1:4
What is God calling you to do with your life? How can you best serve Him? How do you know whether you are responding to your own desires or to His purposes for your life? These questions challenge every Christian. In the next several devotions we will examine Jeremiah's call into prophetic ministry. While he as an Old Testament prophet received God's call directly from Him, and New Testament ministers of the Word receive their call through the church, we will seek guidance in Jeremiah for every Christian's calling.

Living in a definite historical setting, "the thirteenth year of the reign of Josiah, son of Amon king of Judah" (Jeremiah 1:2), "Jeremiah son of Hilkiah, one of the priests at Anathoth" (Jeremiah 1:1), received a definite call from God. Not Jeremiah's personal whims, not a carefully worked out vocational plan with the help of guidance counselors, not a radical vision of his own making, but the clear, simple, direct Word of the Lord. That Word, as we shall see in subsequent devotions, provided both the direction and the power to answer God's call. Ultimately, "The Word [of the Lord] became flesh and made His dwelling among us...full of grace and truth" (John 1:14), namely, Jesus the crucified and risen Savior.

In our specific historical situation, with our own personal background, we turn not to our own whims, or to a carefully contrived plan for reaching the top of the corporate ladder, or to frenetic visions for overcoming mid-life crisis. We simply seek the Word of the Lord speaking to our heart. In that Word, received corporately among God's people and individually in our solitude, we find both direction for daily service and power flowing from the cross of our Lord Jesus Christ, the Word-Made-Flesh. Yes, Jeremiah's call and ours begin with the Word of the Lord.

PRAYER: Dear Father, direct and empower me for service through the Word of Your Son, Jesus Christ. Amen.

(Devotions from "My Daily Devotion" by Dr. Stephen J. Carter, copyright 1988 CPH. All Rights Reserved. No part of this publication may be printed, reproduced, stored in a retrieval system, or transmitted, in any form or by any means, electronic, mechanical, photocopying, recording or otherwise, without prior written permission of Concordia Publishing House. Permission is granted for one-time emailing of this link to a friend. For ordering information, please contact CPH at 800-325-3040 or visit www.cph.org.)

Today's Bible Readings: Isaiah 30-31 Romans 2
To Download Devotion MP3 to your computer, right click here and select "Save Link As" or "Save Target As" or "Download Linked File As"