"Sin and Salvation in Storybook Land: Peter Rabbit"
---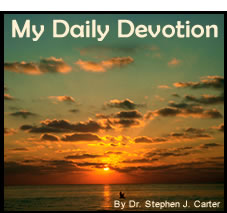 "You must not eat from the tree of the knowledge of good and evil, for when you eat of it you will surely die." Genesis 2:17
You will remember that Mrs. Rabbit dressed her children one morning in good clothes and sent them out to play. They could pick blackberries. Only one thing was forbidden – to sneak into Farmer McGregor's garden patch and eat his vegetables. Flopsie, Mopsie, and Cottontail obeyed and happily picked blackberries. Not so Peter Rabbit. He immediately slipped under the fence into Farmer McGregor's garden patch. How good those vegetables tasted!

But soon, to his horror, he found himself right under the accusing eye of Farmer McGregor. "Stop, thief!" the farmer cried out as he chased Peter with a hoe. Peter ran as fast as he could, but he got caught in a gooseberry net. Finally, he barely managed to pull free, but he was forced to leave behind his brand-new coat with shiny brass buttons. Now he raced into Farmer McGregor's shed and jumped into a half-full water can. At last, Peter – exhausted, wet, tired, frightened – managed to wriggle under the fence and escape home. He was sent right to bed without supper, while Flopsie, Mopsie, and Cottontail sat down to a delicious meal of fresh blackberries and milk.

Aren't we often like Peter Rabbit? God has placed us in this beautiful world to enjoy everything as we serve Him. Yet we at times insist on going beyond the fence and indulging ourselves. Initially we enjoy these forbidden pleasures – until we start feeling sick. God, the righteous Judge, starts pursing us. We know He will find us and that we are guilty. There is nothing we can do to escape, no matter how hard we try.

Recognizing our sin against God, we repent and turn to Him. He sent His Son Jesus Christ to rescue us from our sins. We can stop running and let Him heal and forgive us.

PRAYER: Dear Father, help us sinners to stop running away and to receive Your Son as our Savior and Lord. Amen.

(Devotions from "My Daily Devotion" by Dr. Stephen J. Carter, copyright 1988 CPH. All Rights Reserved. No part of this publication may be printed, reproduced, stored in a retrieval system, or transmitted, in any form or by any means, electronic, mechanical, photocopying, recording or otherwise, without prior written permission of Concordia Publishing House. Permission is granted for one-time emailing of this link to a friend. For ordering information, please contact CPH at 800-325-3040 or visit www.cph.org.)

Today's Bible Readings: 1 Chronicles 28-29 1 Corinthians 15:29-58
To Download Devotion MP3 to your computer, right click here and select "Save Link As" or "Save Target As" or "Download Linked File As"