"Summer and Fall"
---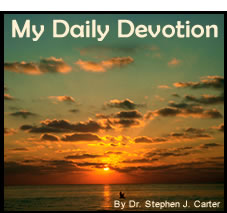 Yet it [the ant] stores its provisions in summer and gathers its food at harvest. Proverbs 6:8
God provides the seasons as a demonstration of His creative power and His love. The warmth of summer brings delight. Crops grow and ripen into maturity. People enjoy being outside. They vacation at the seashore, in the mountains, and by the lake. Golf, swimming, picnics, baseball, and fishing trips abound. Withering heat may also take its toll, and drought may cause serious problems. But the God who causes the sun to shine also sends rains to water the earth. God reigns during summer. The writer of Proverbs summons us to avoid laziness by following the example of the industrious ant which "stores its provisions in summer." We are to make the most of our summer opportunities to serve God.

Fall brings its own unique beauty. The days grow shorter, the mornings and evenings cooler. The first frost comes. The leaves change colors, creating a breathtaking panorama of beauty. Farmers gather in the bountiful harvest in preparation for the harsh winter that lies ahead. The leaves fall from the trees. The cold increases. Winter approaches. Again the writer of Proverbs holds up the ant, which "gathers its food at harvest." God wants us to enjoy the days of autumn but also to make the most of the time so that we are ready for winter.

As we reflect on summer and fall, we recognize on the one hand God's magnificent creation and His boundless provision. On the other hand we come face to face with our own laziness and need for God's help. How thankful we are that God sent His Son to pay for our sins and make us His own. Together with all of God's people we praise Him for summer and fall!

PRAYER: Thank You, Lord God, for Your magnificent creation and boundless provisions. Help us to appreciate Your gifts to us, especially Your Son who died to save us from our sins. In His name we pray. Amen.

(Devotions from "My Daily Devotion" by Dr. Stephen J. Carter, copyright 1988 CPH. All Rights Reserved. No part of this publication may be printed, reproduced, stored in a retrieval system, or transmitted, in any form or by any means, electronic, mechanical, photocopying, recording or otherwise, without prior written permission of Concordia Publishing House. Permission is granted for one-time emailing of this link to a friend. For ordering information, please contact CPH at 800-325-3040 or visit www.cph.org.)

Today's Bible Readings: 1 Chronicles 23-25 1 Corinthians 14:21-40
To Download Devotion MP3 to your computer, right click here and select "Save Link As" or "Save Target As" or "Download Linked File As"