"Olympic Torch: Support"
---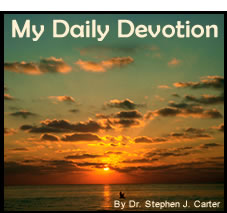 Each of you should look not only to your own interests, but also to the interests of others. Philippians 2:4
The Olympic Torch Relay helped to promote teamwork among the American people. Runners supported each other and likewise received support from the crowds. In Kansas City a beautiful mentally handicapped girl struggled her way up an incline while her entire class waved balloons and shouted, "Run, Amy, run!" Delayed by a severe thunderstorm in Kentucky, the relay arrived in a small community at 2 o'clock in the morning, expecting everyone to be in bed. Instead, they were greeted by several hundred townspeople holding candles to light the way. Giving and receiving support.

Paul writes to the Philippian Christians, "Each of you should look not only to your own interests, but also to the interests of others." How easily we become self-absorbed, settle into our selfish routine, and look out for number one. We want to star on the team and make the headlines.

Paul points to Jesus, who took on the form of a servant and became obedient to death on the cross. Before we can give support, we need support – His total self-giving sacrifice on the cross for us. And we need the strength of fellow Christians to grow in faith. Then by God's power we can live for Him and for others. He helps us see the needs around us and respond with specific, practical aid. We learn to encourage, commend, sustain, and uplift others as they also support us. The Christian fellowship in action far surpasses any Olympic Torch Relay and bears eloquent testimony to the saving work of Jesus Christ, the Servant whom God exalted as Lord.

PRAYER: Dear Lord, help us to see the needs of those around us and guide us to respond with help and support. Amen.

(Devotions from "My Daily Devotion" by Dr. Stephen J. Carter, copyright 1988 CPH. All Rights Reserved. No part of this publication may be printed, reproduced, stored in a retrieval system, or transmitted, in any form or by any means, electronic, mechanical, photocopying, recording or otherwise, without prior written permission of Concordia Publishing House. Permission is granted for one-time emailing of this link to a friend. For ordering information, please contact CPH at 800-325-3040 or visit www.cph.org.)

Today's Bible Readings: Psalms 45-47 1 Corinthians 10:19-33
To Download Devotion MP3 to your computer, right click here and select "Save Link As" or "Save Target As" or "Download Linked File As"