"The Good Soil of a Receptive Heart"
---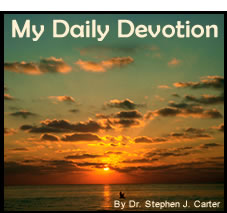 "Still other seed fell on good soil, where it produced a crop – a hundred, sixty or thirty times what was sown." Matthew 13:8
Jesus is teaching by the seashore. In the background a sower is sowing seed in the fields. The people gather to hear, but with different attitudes and motivations. They listen spellbound to His parable taken from a familiar scene in their lives. As He describes each kind of soil – the wayside soil of a closed mind, the rocky soil of a shallow faith, and the thorny soil of conflicting interests, the Spirit of God convicts them of sin – poor hearing and false understanding. Now comes the fourth kind of soil.

"Still other seed fell on good soil, where it produced a crop – a hundred, sixty or thirty times what was sown." Good soil. Deep, clean, soft soil. Nourishment for the germinating seed. An abundant harvest.

God's grace at work. He sent His Son to live and die for a world which represented all the wrong kinds of soils. The seed of God's Word alone contains the power to create receptive soil and bring about a growing plant and an abundant harvest. Even our fruit-bearing comes only from God's grace. The mighty seed explodes in our lives. He gives us receptive and obedient hearts. We learn to listen and understand, to trust and obey.

May we always be good soil and produce abundant fruit. And may God also make us participants in sowing the seed, so that many may be won for Christ's kingdom.

PRAYER: O Lord, grant that we may always be good soil, producing abundant fruit and telling others of your love and mercy in Christ Jesus. Amen.

(Devotions from "My Daily Devotion" by Dr. Stephen J. Carter, copyright 1988 CPH. All Rights Reserved. No part of this publication may be printed, reproduced, stored in a retrieval system, or transmitted, in any form or by any means, electronic, mechanical, photocopying, recording or otherwise, without prior written permission of Concordia Publishing House. Permission is granted for one-time emailing of this link to a friend. For ordering information, please contact CPH at 800-325-3040 or visit www.cph.org.)

Today's Bible Readings: Psalms 127-129 Acts 18
To Download Devotion MP3 to your computer, right click here and select "Save Link As" or "Save Target As" or "Download Linked File As"