"The Thorny Soil of Conflicting Interests"
---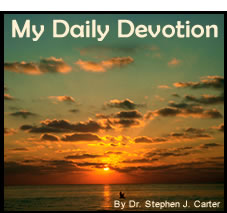 "Other seed fell among thorns, which grew up and choked the plants." Matthew 13:7
God, the Sower, sows the powerful seed of His Word. Some of the seed falls on soil with thorns. This soil looks clean at the outset but is deceptive. When one turns over a garden with fibrous roots still in the ground, similar trouble lies ahead. When the seed germinates and the young plant begins to grow, thorns and weeds grow up right alongside the plant and choke the life out of it.

Jesus describes the thorny soil as follows: "The one who received the seed that fell among the thorns is the man who hears the Word, but the worries of this life and the deceitfulness of wealth choke it, making it unfruitful" (Matthew 13:22).

How devastating to us the thorny soil! We grow as young plants in good soil but all the while permit the many conflicting interests of our life to grow beside us. We lead busy lives filled with activities. We make money. We buy appliances, gadgets, and recreational equipment. We plunge our children into activities. We build a social life – all alongside our hearing the Word of God. Most of these interests need not be wrong in themselves, but the second best is always the enemy of the best. Gradually the thorns begin to choke off the life of God in us.

Do I hear like thorny soil or is my soil receptive to the powerful seed of God's Word? Thank God that Jesus of Nazareth was not distracted by conflicting interests but shunned Satan's temptation to material wealth and went to the cross. In His death He won life for a sinful world attracted by thorns and weeds. Thank God for showing us the priceless value of His life and His Word for us.

PRAYER: Lord, forgive me for letting the thorns of conflicting interests sap my strength. Restore to me the saving life that flows from Your Word. Amen.

(Devotions from "My Daily Devotion" by Dr. Stephen J. Carter, copyright 1988 CPH. All Rights Reserved. No part of this publication may be printed, reproduced, stored in a retrieval system, or transmitted, in any form or by any means, electronic, mechanical, photocopying, recording or otherwise, without prior written permission of Concordia Publishing House. Permission is granted for one-time emailing of this link to a friend. For ordering information, please contact CPH at 800-325-3040 or visit www.cph.org.)

Today's Bible Readings: Psalms 123-125 2 Thessalonians 3
To Download Devotion MP3 to your computer, right click here and select "Save Link As" or "Save Target As" or "Download Linked File As"