"Sitting at the Lord's Feet"
---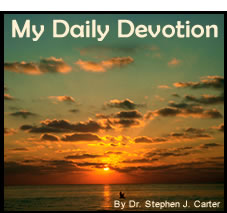 She had a sister called Mary, who sat at the Lord's feet listening to what He said. Luke 10:39
In the Good Samaritan story, the priest and Levite are criticized for passing by on the other side instead of helping the injured man. In the well-known story of Mary and Martha, Martha is criticized for helping prepare food for Jesus instead of sitting at His feet like Mary. How do you explain the difference?

Martha serves without sitting at Jesus' feet. Perhaps she serves selfishly, wanting to be recognized as a good hostess. Certainly she serves anxiously. Jesus chides her gently, "Martha, Martha … you are worried and upset about many things" (Luke 10:41). Caring for Jesus, wanting genuinely to serve Him, she grows fretful and troubled, showing open irritation toward her sister.

Are we sometimes guilty of trying to serve without sitting at Jesus' feet? We may be serving for selfish reasons – looking good in people's eyes, trying to soothe our conscience. Certainly we often serve anxiously. We push ourselves, rush around, worry and fret as we do the Lord's work. Like Martha we don't sit enough at the Lord's feet listening to His Word.

Mary sits at Jesus' feet and learns to serve. The rabbis had students "sitting at their feet." Only men were allowed, no women. Mary finds it a great joy to be included by Jesus. She knows the value of not living "on bread alone, but on every word that comes from the mouth of God" (Matthew 4:4). She no doubt hears about her sin, God's forgiving love in the Messiah, and the joy of serving God every day. She sits so that she may serve.

We also need to sit at Jesus' feet, listening to His Word. All distractions put aside, we worship, commune, and study the Word. We see Jesus as the One who became a servant for us, fully paying for our sins on the cross. Thus we let Him prepare us for joyful, genuine service.

PRAYER: Dear Lord, make us Marys sitting at Your feet so that we can serve generously, as Martha wanted to serve. Amen.

(Devotions from "My Daily Devotion" by Dr. Stephen J. Carter, copyright 1988 CPH. All Rights Reserved. No part of this publication may be printed, reproduced, stored in a retrieval system, or transmitted, in any form or by any means, electronic, mechanical, photocopying, recording or otherwise, without prior written permission of Concordia Publishing House. Permission is granted for one-time emailing of this link to a friend. For ordering information, please contact CPH at 800-325-3040 or visit www.cph.org.)

Today's Bible Readings: Psalms 1-2, 10 Acts 16:22-40
To Download Devotion MP3 to your computer, right click here and select "Save Link As" or "Save Target As" or "Download Linked File As"