"Passing By on the Other Side"
---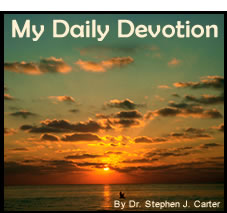 "When he saw the man, he passed by on the other side." Luke 10:31
You know the story. Too bad about a negative title, but it labels a serious problem. Man in need. Fallen among thieves. Left half dead. Two people in a position to help—a priest and a Levite, both tied to the temple and the worship conducted there. Result: both passed by on the other side, leaving him to die.

Can you relate their inaction to your life? Wife in need of caring time with you. Newspaper and television sports take precedence. You pass by on the other side. People hurting and struggling at work or school. Business comes first. Tasks pile up. Promotion needs to be considered. No time. You pass by on the other side. National and local issues scream for your attention. Abortions increase. Teenage pregnancies rise. Refugees need help. But yardwork beckons. Vacations are needed. Making money takes precedence. You pass by on the other side.

The story, though, doesn't end with the priest and Levite passing by. It goes on to describe the grace of stopping to help. A despised Samaritan cares enough to risk his safety and attend to the man's wounds. We all recognize him as the Good Samaritan. We could think of him as a type of Jesus, the One who endured suffering, pain, and death for us to save us. His stopping to help us, "God's enemies" (Romans 5:10), demonstrates pure grace and forgiveness.

And helped, we learn to stop for others. Forgiven, we receive the grace to help. Not "Who is my neighbor?" (Luke 10:29) but "To whom can I be a neighbor?" becomes our question. The answer comes back: "Go and do likewise" (Luke 10:37). With God's help, no more passing by on the other side!

PRAYER: O Lord, keep me from passing by on the other side when my help is needed. Help me to become a Good Samaritan. Amen.

(Devotions from "My Daily Devotion" by Dr. Stephen J. Carter, copyright 1988 CPH. All Rights Reserved. No part of this publication may be printed, reproduced, stored in a retrieval system, or transmitted, in any form or by any means, electronic, mechanical, photocopying, recording or otherwise, without prior written permission of Concordia Publishing House. Permission is granted for one-time emailing of this link to a friend. For ordering information, please contact CPH at 800-325-3040 or visit www.cph.org.)

Today's Bible Readings: 2 Kings 24-25 Acts 16:1-21
To Download Devotion MP3 to your computer, right click here and select "Save Link As" or "Save Target As" or "Download Linked File As"